Up to 8 players
400 questions and 99 facts
Ages 4 and up
2 or more players
56 pieces
Everyone can play!
2-10 players
108 cards
Ages 7 and up
2-6 players
Flexible Playing Time
Ages 3 and up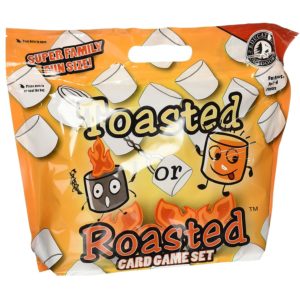 2-4 players
Waterproof, resealable bag
Ages 6 and up
---
Choose the Best Board Game for Camping
Customer's Choice: the Best Rated Board Games for Camping
14 users answered this survey. Please help us improve this review!

50% of users selected Camp, 21.43% selected Yard Games Giant, 7.14% selected UNO Wilderness, 0% selected Gofindit and 21.43% selected Toasted or Roasted. Every month we analyze your answers and change our rating.
---
Being an owner of Jenga-Game.Com, I'm flattered each time people online, like Twitter, for instance, ask me to recommend board games for friends and families. One request inspired the series of reviews on this website. All of them are dedicated to picking the games for outdoor activities like a backyard party and camping. If you are also interested in my choice of the best board games for camping.
Major criteria for picking board games for camping nights
When going out with your friends or family for a camping trip, people usually think of playing such games as volleyball or Frisbee. But many campers also like playing not that active games and choose the board titles. These compact packs bring many positive emotions and unforgettable feelings. In addition, I insist on choosing board games that are easy to pack and transport. Opt for the small boxes with fewer medium-to-large pieces. Such games are easy to place in a backpack.
Also, I would like to recommend a solid, tight box or waterproof bag to make sure that all in-game cards and pieces remain intact. Fortunately, many manufacturers take into account that their products can be used not only at home but also at an outdoor party and by campers. I also possess a few board games in metallic cases that are surprisingly lightweight and easy to carry around.
Keep in mind that chips and dice are easy to lose, and lightweight cardboard pieces can be carried away by the wind, so choose the games with the heavy and large pieces. Make sure to pick the games that don't require an actual big board for playing – you may end up laying on the board and crushing all little pieces on the ground. On the other hand, if there is a gazebo or folding table or anything else that replaces it at your disposal, then you can ignore this recommendation.
Personal top of 5 best board games for camping:
Camp is great with a very good title for this particular pool of recommendations, don't you think? It is good for 8 players, includes 400 questions and about 100 facts. Awesome pick for family game nights, because the recommended age is 4 years and older.
Yard Games Giant is good for 2 players and more. It offers 56 pieces to build a tower;
UNO Wilderness is another great game for 2-10 players camping. It features over 100 cards for players aged 7+;
Gofindit is a board game with flexible playing time, awesome for 2-6 players aged over 3 years old;
Toasted or Roasted is the personal favorite pick for my family, it is great for 2-4 players. I like that includes a waterproof bag;
Video Tutorial: How to Play UNO
Did you like my recommendations? What games do you usually play when going camping with friends and family? I really like to know your favorite titles to try and review them. Make sure to subscribe to the website, if you like the content.
---