---
Lifetime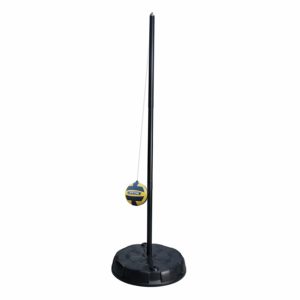 Portability and Stability
Weather and rust-resistant
For outdoor use
Park & Sun Sports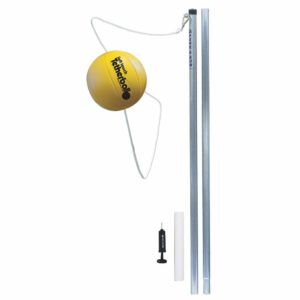 Steel
Resists Rusting
Soft Synthetic Material
Swingball
Ages 6+
Steel tube adjustable
Play anywhere
Baden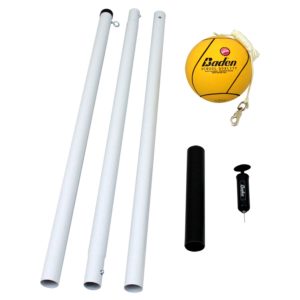 Sturdy
Ball pump included
Ages 6+
Park & Sun Sports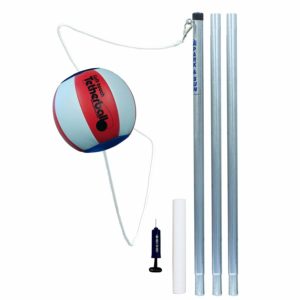 Sturdy
Premium-quality
Ball pump included
---
Choose the Best Tetherball Set
Customer's Choice: the Best Rated Tetherball Sets
18 users answered this survey. Please help us improve this review!

66.67% of users selected Lifetime, 11.11% selected Park & Sun Sports, 16.67% selected Swingball, 5.56% selected Baden and 0% selected Park & Sun Sports. Every month we analyze your answers and change our rating.
---
One of the oldest lawn games is tetherball. Its origins are mysterious but for many centuries it has been a favorite outdoor game among adults and kids.
Traditionally tetherball is defined as a schoolyard game for young kids. But nowadays adults like playing this game too. This lawn game can be a great pick for families who love active games outside.
You may add fun and motion to your BBQ party. The game can be played only between 2 players at the same time. However, the rest of the players can support 2 participants during the gaming session.
Benefits of playing tetherball:
Constant motion – players should run, jump and swing their limbs
Affordable
Doesn't occupy much space
Cardio training
Easy to learn and play
If you are searching for a fun upgrade to your backyard games with families, consider buying a tetherball set. This quite catchy game doesn't need any special skills. Jump, play and win – even if you are a novice.
Choosing a tetherball set should not be a tough task. Read the following guide with tips for buyers. Consider the important features of some of the best tetherball sets in the U.S. market.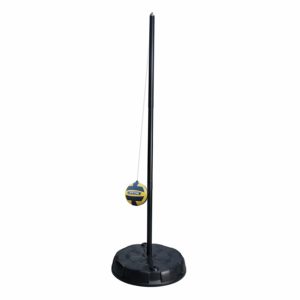 If you seek convenience and fun along with mobility, the Lifetime Tetherball System may come handy. This sports gear is quite suitable for intense 1-vs-1 matches. The set has a really mobile design with small but steady wheels.
Despite being fully portable, this product also features the weather-resistant pole and a thick 72-inch nylon cord. These pieces are attached to the sturdy 30-inch polyethylene base that can be filled with sand or water. You can easily transport and install the base onto various surfaces.
| | |
| --- | --- |
| Pros | Cons |
| Very mobile thanks to tiny wheels | Some users find the base flimsy, especially if it's filled with water |
| Sturdy design | It is good only for outdoor |
| Easy to set up | The rope is attached by a clip |
| Suitable for different surfaces | – |
| Rustproof steel pole | – |
| 5-year warranty | – |
This kid-friendly tetherball system is good for beginners and professional athletes who need to transport the gear whenever they go. The set offers a regulation-size 8-inch ball that is soft to the touch. This system doesn't include any extra accessories.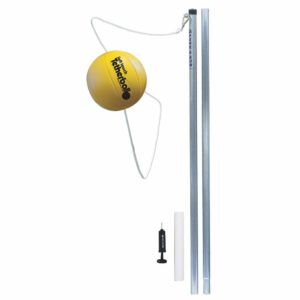 The Park & Sun Sports tetherball system is a kid-friendly set that can be installed anywhere in a house or at your backyard. The pole is installed permanently on the surface. The set includes a 2-piece pole – each 1-5/8 inch piece is made of the very durable galvanized steel.
The pole pieces are linked together with a push-button locking system. That is why you may quickly assemble and disassemble this in-ground system.
| | |
| --- | --- |
| Pros | Cons |
| Kid-friendly | The pole is quite thin |
| Durable materials | Too lightweight for rough plays |
| Very easy to install | Can't be transported |
| Permanent structure | – |
| Long pole – up to 10.3 feet | – |
| The ball is soft to the touch | – |
| Includes a 12-inch PVC in-ground sleeve | – |
| Includes a compact hand pump for the ball | – |
The durable and thick pole system can resist any weather conditions, rusting and oxidation. This pole will stand still even on very windy days. The ball is attached to the pole via a durable internal swivel.
This professional tetherball system is strongly recommended for the development of hand/eye coordination. It is more kid-friendly because of the system's weight. Or you may use it as a beginner's setup. The set is quite compact and portable.
Also, the pole has fully adjustable height – up to 5.5 feet. The system includes a few extra accessories like pro swingballs, checker bats and a scoring table. The base can be filled with water or sand. It will steadily stand on the grass, decking, sand and concrete.
| | |
| --- | --- |
| Pros | Cons |
| Quite catchy design and vibrant colors | Flimsy attachment of the pole to the base |
| An adjustable pole height | Not very durable materials |
| Lightweight | – |
| Kid-friendly (age 6+) | – |
| Good for beginners | – |
| Mobile | – |
| Easy to install | – |
| Affordable | – |
This system combines the features of swingball – a hybrid of tennis and tether. You can easily transport the gear in a compact carrying case to play anywhere.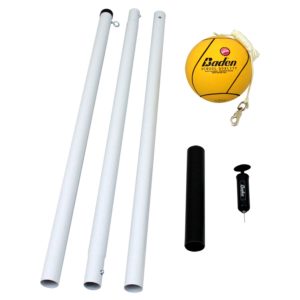 The tetherball system by Baden Champions Series may be a good choice if you seek easy installation. It really offers the easiest setup that even a child can handle. It has a top-notch nylon rope, with a hook and eyebolt. A compact air pump helps to install the ball.
A deluxe ball accompanies a sturdy steel-coated detachable pole and a 12-inch PVC ground sleeve made of plastic.
| | |
| --- | --- |
| Pros | Cons |
| Soft rubber ball | The pole may rust quickly |
| Incredibly easy to assemble | May become wobbly if you prefer intense training |
| Many accessories are included | Some parts may detach easily |
| An official rulebook | – |
| Budget-friendly | – |
| Suitable for adults and kids | – |
| Long and adjustable pole | – |
| A strong eyebolt | – |
The Baden Champions Series tetherball set is very easy to assemble. The only thing that requires assembling is a three-piece pole. You would enjoy playing the simple game after the quick installation.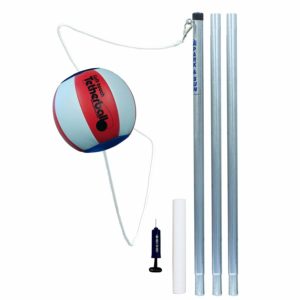 One more portable tetherball set in this list is offered by the popular brand Champion Sports. It is an affordable system with the mid-range build quality. The best thing about this set is 7 accessories that come along.
It is recommended only for the kids up to 12 years because the pole is short and can't be adjusted. Also, it won't be good for indoor gaming.
| | |
| --- | --- |
| Pros | Cons |
| Affordable | Assembling marks disappear after a few installations |
| Many accessories | Poor build quality |
| Waterproof nylon rope | Too lightweight |
| Stylish carrying bag-case with a secure strap | The pole is too short (only 6 inches) |
| An air pump with a ball needle | The rod tilts easily |
A vinyl ball, thin 6-inch rod, lightweight plastic pump and the average quality of other parts make this set not the best pick for durability.
But if you seek the system for beginners, then this budget-friendly tetherball set with many accessories may be a good choice.
The Buyer's Guide
Pole type
As you may have noticed, all tetherball sets are divided into portable and permanent systems:
Portable sets are more preferable if you have plans to play tetherball on the beach. The most important thing to look for in such sets is the fixed base. Typically, the portable system has a sturdy base that should be filled with concrete, sand or water. The in-ground pole is also a better choice from this point;
Alternatively, permanent sets can be fixed to the surface permanently. Such systems are not compatible with any surface. It is necessary to check the durability of the pole's materials because permanent sets should be sturdy. The galvanized steel is the best material in such sets;
| | | |
| --- | --- | --- |
| permanent tetherball systems | vs | portable tetherball systems |
| the in-ground design and sturdy pole | | the fixed base is filled with water or sand |
| heavy and durable | | lightweight and movable |
| expensive | | affordable |
| good for professional and intense use | | good for kids and beginners |
Materials
Pole material. As has been already mentioned, the pole should be sturdy. The galvanized steel is a must-have material if you seek for durable and permanent tetherball sets. Only this material can resist any weather conditions in a case you prefer playing outdoors;
Rope material. Most ropes in the above-mentioned sets are made of nylon. This material is weather-resistant and durable. It can tolerate the frequent and rapid swirls and the ball hits. The rope has to be attached permanently. The clip attachment may fall off easily;
Ball material. The tetherballs should be soft to the touch. The material has to be weather and wear-resistant. And the fabric should tolerate the numerous hits. Think of outdoor volleyballs – high-end tetherballs are made of the same fabrics;
Ease of installation
A tetherball system should not include the bolts, screws and nuts. Even a child should be able to assemble the set in 5 minutes. You don't have to invest in the sets with a challengeable assembling because there are plenty of units with a simple setup.
Portability
Logically, portable tetherball sets are more mobile than permanent systems. An ability to adjust and disassemble the set's pole whenever you need increases the storage options. But if you plan to use this set only in your backyard from time to time, then there is no need to invest in portable sets. Because portable systems usually lack weight and durability. Also, double-check the pole length of portable tetherball systems because usually it is shorter than standard.
Accessories
It is convenient if the tetherball set includes an air pump and an inflation need for pumping the ball. Also, portable systems should come with durable carrying cases. An eyebolt and hook also can assist if you seek a quick installation. Some manufacturers also include spare parts into the packages but it happens rarely.
Price range
Budget-friendly. The sets under $50 fall into this category. Typically the standard tetherball is replaced with a cheaper tennis ball. The poles are short and the base is made of plastic. Such sets can be a good choice for kids and beginners who play tetherball occasionally. Such systems are good for indoor use;
Mid-range. The sets under $100 may range in the pole height from 5 to 10 feet. Typically, such tetherball systems are designed for the in-ground installation. Such sets come with nylon or rubber balls with segmented (adjustable) steel poles;
Pricey. The sets under $150 are mostly designed for permanent installation and regular use. The poles in such systems are usually made of solid galvanized steel. The rope is usually thicker (made of sturdy nylon);
Tetherball Rules
First, one to the court is the server. Ask the challenger which way they want to go. Challenger chooses its direction. Wrap the ball around the opposite way before serving. Serve to start. Let the ball go around one time.
The first one to wrap the ball around the pole wins. This is a tether. If you commit a foul during the game, you are out. Examples of fouls: throwing the ball, touching the rope, catching and throwing the ball, crossing the line, touching the pole. After three wins, the server must go to the end of the line. Don't forget to be a good sport.
Video Tutorial: How to play tetherball
Final thoughts
The five tetherball sets listed above are great lawn games that may entertain people of different ages and social groups. Check the pros and cons of each model before buying. Each tetherball set has a unique feature that you may find the most suitable one. Hopefully, you will get the best tetherball effortlessly to entertain your friends and family members.
---