---
GoSports Croquet Set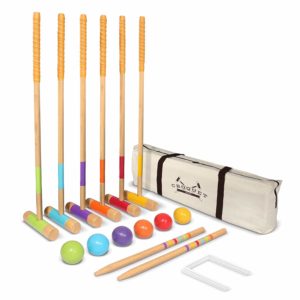 Premium Hardwoods
With Comfort Grip
Carrying Case
Hey! Play! Croquet Set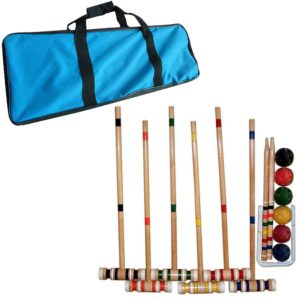 Durable Wood
6 Player Game
Nylon Travel Bag
Juegoal Croquet Set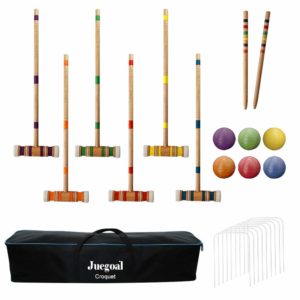 Hardwood
Weather Resistant Balls
2-6 players
Baden Croquet Set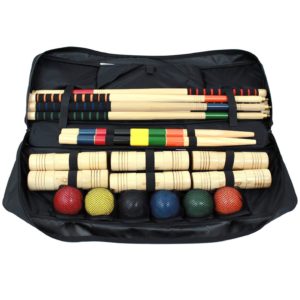 33″ long mallets
2-6 players
Nylon Travel Bag
Harvil Croquet Set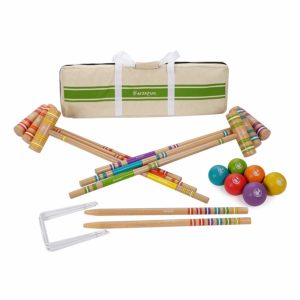 Hardwood
2-6 players
Nylon Travel Bag
---
Choose the Best Croquet Set
Customer's Choice: the Best Rated Croquet Sets
19 users answered this survey. Please help us improve this review!

63.16% of users selected GoSports Croquet Set, 5.26% selected Hey! Play! Croquet Set, 10.53% selected Juegoal Croquet Set, 10.53% selected Baden Croquet Set and 10.53% selected Harvil Croquet Set. Every month we analyze your answers and change our rating.
---
Dating back to the late 1850s the classic English game croquet still remains one of the most popular recreational and professional sports. Just like most lawn games, croquet is good for training not just the body but also the soul. You may swing the mallet and hit the ball like a pro right at your backyard. It is enough to buy the semi-professional croquet set and enjoy the family weekend outside.
Even if you don't know anything about the classic croquet rules, it is quite easy to understand how to play this lawn game. In the review below, you may find colorful, budget-friendly and easy to install croquet sets. The review is also compiled with the list of essential factors to make the process of buying simpler. In the end, you will get the information about how to buy a high-quality croquet set.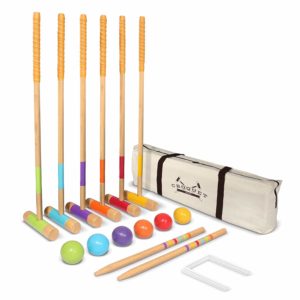 The GoSports premium hardwood set includes 6 colorful mallets, 6 balls, 9 wickets, 2 end posts, and the manual with rules. Also, the set has a carrying case to organize and transport all these pieces. The 35-inch, leather-wrapped handles can be great to use by adults and kids – the back won't hurt from swinging the handles.
| | |
| --- | --- |
| Pros | Cons |
| The lightweight set | The heads of mallets are a bit smaller |
| Long leather-wrapped handles for a comfortable grip | The carrying case smells |
| Made of durable hardwood material that is prone to cracks | – |
| Supplied with a high-quality carrying case | – |
| Recommended for both adults and kids | – |
| Detachable mallets | – |
Bear in mind that this croquet set comes in two options – standard with 28-inch handles and deluxe with 35-inch handles. This is the deluxe version designed specifically for better control. Each ball weighs 10 ounces and it is about 3-inch in diameter.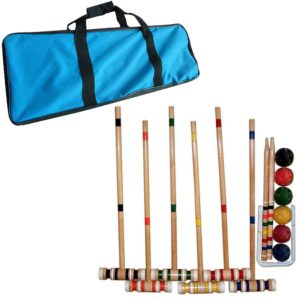 If you expect croquet to be an easy and fun lawn game, consider buying this Crown Sporting Goods set. This deluxe set includes six 32-inch hardwood, colored mallets with rubber caps, 6 polymer balls (matching the color of mallets), nine 21-inch long, vinyl-coated wickets, and two top-notch hardwood stakes.
Besides, the set comes with a black zip-up carrying case with a shoulder strap. The quality of materials is superb.
| | |
| --- | --- |
| Pros | Cons |
| The lightweight balls are made of all-weather polymer | Not recommended for the kids younger than 4 years |
| Read hardwood mallets | The mallets are hard to assemble |
| Rubber caps for better comfort | – |
| Durable carrying case with a soft shoulder strap | – |
| Sturdy vinyl wickets | – |
| The hoops are made of metal | – |
This croquet set can be a good choice to play in large groups. Make sure to buy the deluxe version of this set that comes with a nice case. Thanks to this portable carrying case, you may take it to camping trips, barbecues, and picnics.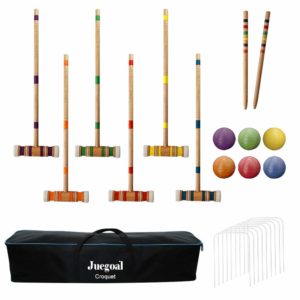 Designed for family gatherings, BBQs and picnics, this lightweight croquet set features six 24-inch hardwood handles and 7-inch mallets with coated caps. Also, the deluxe version has two 16-inch hardwood stakes to mark the backyard or lawn.
The game will be fun to play thanks to 6 high-quality polymer balls and 9 vinyl-coated steel wickets.
The set comes with a premium carrying case to transport the set between the game locations.
| | |
| --- | --- |
| Pros | Cons |
| Lightweight | Thin case and wickets |
| Premium carrying case | Bad pilot holes in the mallets |
| High-quality pieces | – |
| Budget-friendly | – |
| Tight screws for the detachable mallets | – |
| Good for small kids | – |
This deluxe croquet set would be a good investment for veterans and beginners.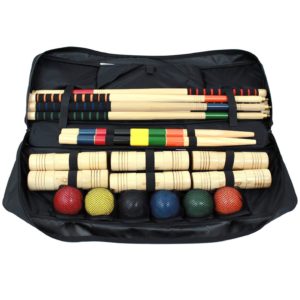 Constructed by Amish craftsmen, this deluxe 8-player croquet set can be great for family lawn games. Besides premium quality and durability, this set can boast great maple mallets. They are lathe-turned pieces, with the hand-painted section rings.
The rings are also polished with brass adorn keeping the wood from cracking. All 8 mallets have matching colors to the balls.
Not just the mallets but also 9 wickets are made of quite durable material. The metal wickets are coated in vinyl to prevent easy bending. 8 polymer balls measure 3-5/16-inch in diameter. This particular set has 32-inch handles for taller adults. All these pieces can be transported in a pinewood holder.
| | |
| --- | --- |
| Pros | Cons |
| Handcrafted | The rack is a bit unstable |
| Good for 8 players | Pricey |
| High-quality materials | Bulky |
| The mallets have additional rings for durability | – |
| One-year warranty for all pieces | – |
| Pinewood case for mobility use | – |
| The handles are available in different sizes | – |
This Amish handcrafted and painted croquet set is available for a good price taking into account its quality. If you like playing croquet regularly, the set can be a great investment.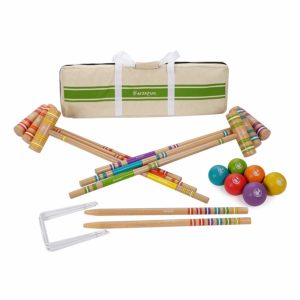 The Uber Games set is completely made of hardwood, even the balls. It is a really classic design for the croquet set. The eco-friendly, 4-player set includes 4 hardwood mallets of different sizes (for adults and kids).
The wooden balls are available in various colors – black, blue, yellow and red. Besides the adjustable mallets and balls, this set also features 9 steel hoops and wickets.
| | |
| --- | --- |
| Pros | Cons |
| Crafted with high-quality wooden materials | The storage case is not included |
| Four 3-pound mallets of different sizes for kids and adults | Crude finishes |
| Easy to install | – |
| Hand-painted wooden balls | – |
| Eco-friendly | – |
| Budget-friendly | – |
The Uber Games set is durable, eco-friendly and it includes additional accessories to play with family and friends.
The Buyer's Guide
Number of players
This is the first thing to consider when buying the croquet set. Usually the sets are suitable for 4-6 players. The set should include a mallet per each player. It's recommended to play the croquet game with 6-8 players.
Build quality of mallets
The mallet size varies, depending on the player's age. That is why they have different variants of heads – from cube to round. Croquet doesn't require brute force. But if you want to add competition to this lawn game, you should pick the sets with well-crafted mallets. For instance, you may invest in the mallets made of solid pinewood or maple wood. To provide additional comfort, you may buy the mallets with brass rings. Such a coating can prevent the mallet's head from being cracked. Rubber end caps can also do the job but they may change the ball's trajectory. You may lose accuracy when playing with such mallets.
Cheap sets include hardwood mallets with bamboo heads. Such mallets will be good enough only for recreational use.
The handle size is another factor to consider. The longer the handles, the taller the player should be to play croquet with such a mallet. Most sets come with the options: the handle size varies from 28 to 35 inches. 28-inch handles are good for kids and teens but they will also do for the average adults. However, most professional croquet players prefer 35-inch handles.
Balls
Because of the croquet rules, the balls get hard hits all the time. That is why the croquet balls have to be perfectly round for quick and easy rolling. Also, they should be sturdy. From this point of view, professional croquet players tend to choose polymer plastic or hand-painted wooden balls. The diameter usually varies from 2.5 to 3 inches. It is hard to get wooden balls apart from the eco-friendly sets.
Stakes
Pegs or stakes are great for marking the playing field. You need to mark out the finishing and starting points. That is why the stakes have to be quite durable. The stakes should be large enough to press into the grass or ground. If you play croquet occasionally, then you may choose the set with cheap plastic stakes. But if you are searching for the premium set that will serve for many years, then it would be more preferable to use the stakes made of wood or metal.
Wickets
The wickets should not be underestimated. Despite the rules that you play by, all croquet games make you hit the balls through the wickets (sometimes Americans call them arches or hoops). Typically, the wickets are made of plastic. However, consider buying the sets with steel or wooden wickets.
Croquet Game Rules
The first thing you want to do is determine who or what team goes first. Now blue always goes first according to the steak. So you can do it in a number of ways. You can spend the mallet and whoever it points to gets to go first. You can flip a coin. Whoever wins that coin toss gets blue. A lot of times, people just call out colors, and blue, because it's on the stake, would go first. And here's how it's played.
The blue team or the blue person would stick the ball down here by the steak. And the idea is to aim it and get it through the wickets. Now you've got to get through the first wicket to score what's called a bonus to get to hit it again. But some people try to hit it through both of them and get two bonus strokes, so they've got actually two bonus strokes to go to the other one.
So the idea is to take aim and hit it through that first wicket. So, by hitting it through that first wicket, we get one bonus stroke. So that means we get to hit through the next wicket. So we simply just take aim and knock it through there. Again, we get another bonus to keep going.
Something that happens in croquet and what makes the game so fun, is if the ball is here and the person steps up, he's got to get it through there to continue his turn. If for some reason, he misses it, then it's red's team, and the red team tries to go through. The cool thing here is this ball's in the way. Well, if the red team comes through this wicket and hits this ball, they get one bonus stroke for going through the wicket, and if they hit this one at the same time, they actually get two. If the red ball was to hit the blue ball and send the blue ball through as well as the red ball, then the red ball would then have three strokes after going through all two of these because one for that one, one for this one, and one for hitting the blue ball, three strokes to continue his game.
Video Tutorial: How to Play Croquet
Final thoughts
The market is flooded with high-quality croquet sets but the above-mentioned game sets can really become the long-lasting investment for an affordable price. You are free to choose the set that suits your requirements and budget.
It does not make sense to invest a lot of money in an expensive croquet set if you are going to use it only once or twice per year. And, otherwise, there is no reason to save a few bucks if you like playing croquet every weekend.
---