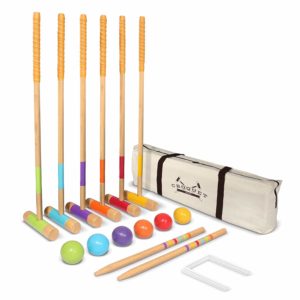 Premium Hardwoods
With Comfort Grip
Carrying Case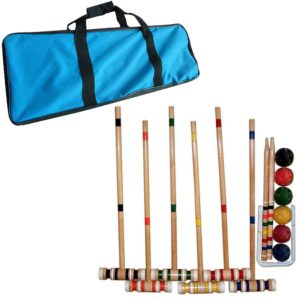 Durable Wood
6 Player Game
Nylon Travel Bag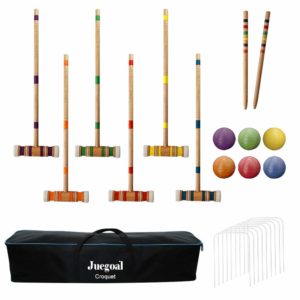 Hardwood
Weather Resistant Balls
2-6 players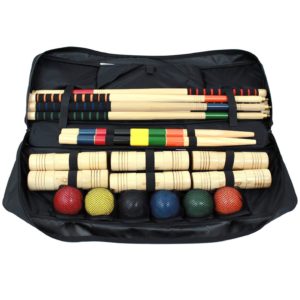 33" long mallets
2-6 players
Nylon Travel Bag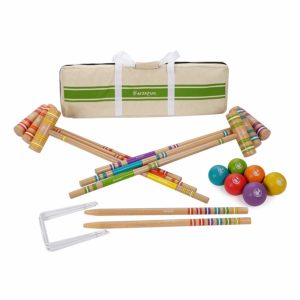 Hardwood
2-6 players
Nylon Travel Bag
Croquet Game Rules
The first thing you want to do is determine who or what team goes first. Now blue always goes first according to the steak. So you can do it in a number of ways. You can spend the mallet and whoever it points to gets to go first. You can flip a coin. Whoever wins that coin toss gets blue. A lot of times, people just call out colors, and blue, because it's on the stake, would go first. And here's how it's played.
The blue team or the blue person would stick the ball down here by the steak. And the idea is to aim it and get it through the wickets. Now you've got to get through the first wicket to score what's called a bonus to get to hit it again. But some people try to hit it through both of them and get two bonus strokes, so they've got actually two bonus strokes to go to the other one.
So the idea is to take aim and hit it through that first wicket. So, by hitting it through that first wicket, we get one bonus stroke. So that means we get to hit through the next wicket. So we simply just take aim and knock it through there. Again, we get another bonus to keep going.
Something that happens in croquet and what makes the game so fun, is if the ball is here and the person steps up, he's got to get it through there to continue his turn. If for some reason, he misses it, then it's red's team, and the red team tries to go through. The cool thing here is this ball's in the way. Well, if the red team comes through this wicket and hits this ball, they get one bonus stroke for going through the wicket, and if they hit this one at the same time, they actually get two. If the red ball was to hit the blue ball and send the blue ball through as well as the red ball, then the red ball would then have three strokes after going through all two of these because one for that one, one for this one, and one for hitting the blue ball, three strokes to continue his game.
Video Tutorial: How to Play Croquet
---