---
It's for two to six players. It's for ages four and up, and a typical game plays in about 10 minutes. Clack! comes with 36 white magnetic discs. Each disc is printed with three colorful symbols. There are five different symbols in total: stars, feet, flowers, puzzle pieces and arrows. The symbols come in five colors: yellow, green, blue, red and purple.
Clack! Game Rules
The magnets are built into each disc, so they'll snap together when you wave one over the top like so, thus the name of the game. In addition to the discs, Clack! comes with two dice. One shows all the symbols in the game, and one shows all the colors. Now let's learn how to play. First, place all the discs face up on the table, where everyone can reach them. Roll the dice, and the game begins. The dice show you which discs you want to collect this round. As fast as you can, pick up a disc with the matching color and symbol. You have to rely on the magnets to clack the pieces together.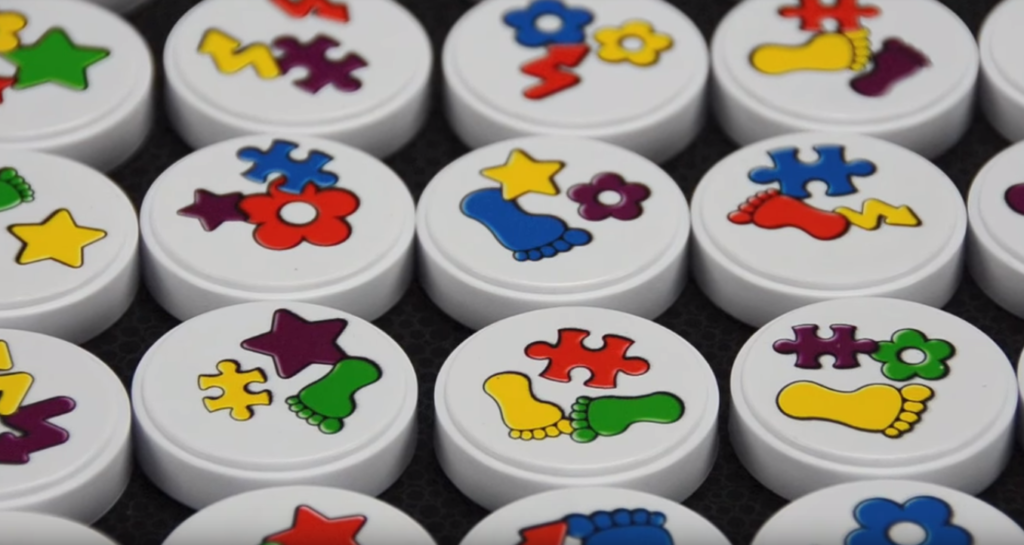 The dice roll was red feet, and sure enough, each disc collected has a red foot. This time, the roll shows a purple star, and so you pounce on the discs and try to find purple stars. You'll add these three discs to your scoring stack. The white face on each die is wild. With the color die, that means any color will fit the pattern. The roll is for feet of any color, which means any disc with a foot is fair game. And there are a lot of feet.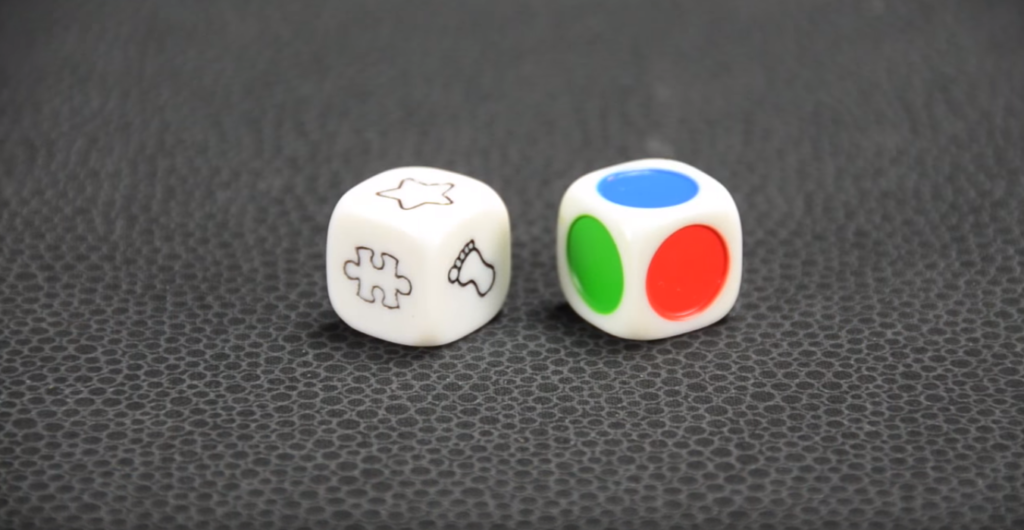 With the symbol die, the white face means any symbol will fit the pattern. Here, the goal is any green symbol. Again, there'll be a frenzied battle to pick up every green disc on the table. Sometimes, the pattern on the dice won't fit any of the discs remaining on the table. But eventually, all the discs will be collected. At that point, the game ends, and the player with the tallest stack wins the game. Clack! is crazy fun for all ages. The concept is simple but so engaging. No one can resist these magnets. The more you play, the more you can clack and stack your way to victory.
---