---
GoSports
100% Solid Wood
4 feet x 2 feet
8 all weather bags
GoSports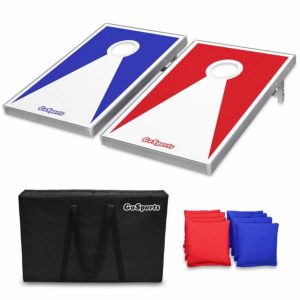 MDF surface
3 feet x 2 feet
8 all weather bags
ZENY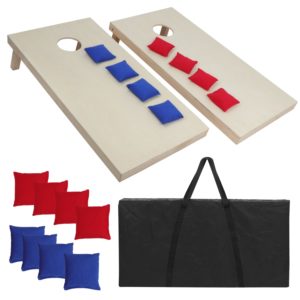 100% Solid Wood
4 feet x 2 feet
Eight bean bags
Backyard Champs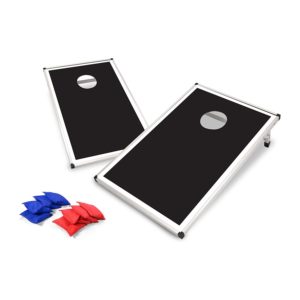 MDF surface
2
Eight bean bags
Cornhole Association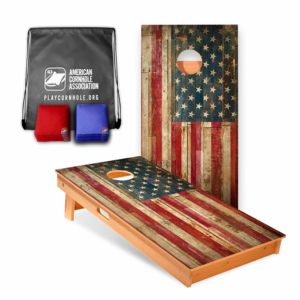 100% Solid Wood
4 feet x 2 feet
8 regulation bags
---
Choose the Best Cornhole Board
Customer's Choice: the Best Rated Cornhole Boards
17 users answered this survey. Please help us improve this review!

70.59% of users selected GoSports Premium, 11.76% selected GoSports, 5.88% selected ZENY, 0% selected Backyard Champs and 11.76% selected Cornhole Association. Every month we analyze your answers and change our rating.
---
Do you like being the life of the party? If you want a portable game that will get everyone having fun, then a cornhole set might be the best idea. While these sets are not small, you can tote them around in your trunk.
When you want a game you can use outside or in a large indoor area, then these game boards are an affordable option. All our picks come with playing bags for each person. All you have to do is show up at the event and pull the cornhole set out.
Our options include a variety of sets with regulation and tailgate sizes. Regulation boards are four feet by two feet. Tailgate boards are three feet long by two feet wide.
Our list includes a variety of non-regulation and official size boards along with wood and metal frames. Each option offers consumers a variety of benefits including ease of storing and stowing. You may want to check out the most popular features in this section before deciding which size and style set you want to purchase.
If you like games that you can open up and use immediately, then this may be the cornhole set for you. When you show up at the party, then this set will be ready to use as soon as you put it on the ground.
Your friends may find this game set fun to decorate unless you decide to give it a custom look before you head to the barbecue.
With a solid wood design, this cornhole set may last for several years of play. They miter the ends to ensure the solid construction holds up well. The regulation size set means your cornhole team can practice on the same boards as the professional players.
| | |
| --- | --- |
| Pros | Cons |
| All-season bag materials | The corners may chip during shipment |
| Customizable surface | Boards can have a warp from moisture collection during shipment or processing |
| Prevarnished half-inch thick plywood boards | – |
| Comes with a durable bag for storage and carrying | – |
| Recycled pellets fill the bags | – |
---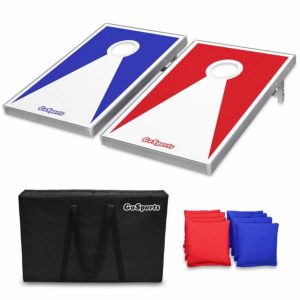 Do you need a cornhole board and bags that you can keep in the back of your truck or car? If regulation size is not important to your gameplay, then you might find this set a fun option.
The light aluminum frame makes it easy to carry these boards between events and they will not take up the entire trunk.
The red and blue board design makes it easy to keep score. Metal legs lock in place to keep the board from moving during play. The aluminum legs fold quickly to help you take down the set when you are ready to head out. The travel case holds both boards and all eight bags making it easy to tote the set anywhere you want to go.
| | |
| --- | --- |
| Pros | Cons |
| Metal frame with painted MDF boards | Board surface may be too slippery for some players |
| Comes with eight regulation weight bags | Bags may spring off from the board because of the bounciness |
| Bags use a plastic pellet versus rice to ensure moisture is not a problem | – |
| Duck cloth bags repel moisture | – |
| Ships at 27 pounds versus 40 plus with wood frames | – |
| Sturdy frame gives you tons of play time | – |
---
Zeny – Best Customizable Boards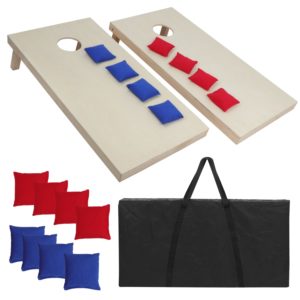 Do you want a cornhole set you can keep at home for backyard fun? This kit from Zeny uses an all-season coating that lets you play no matter what the temperature is outside.
You can have friends over and toss around the bags in the snow or play on hot, humid days with the same results.
These boards use a solid wood design. With a regulation cornhole set, you can have impromptu challenges whenever you want. One thing people appreciate with this game set is they are easy to paint or varnish.
| | |
| --- | --- |
| Pros | Cons |
| 100 percent pine wood | Bean bags may not come in regulation size |
| Regulation playing size | – |
| Thick material means less warping in outdoor settings | – |
| Excellent surface for adding decals and stickers | – |
| Easy fold legs | – |
| Comes with a tote bag for carrying | – |
---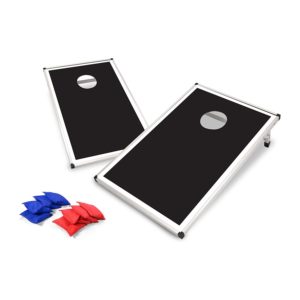 Are you the life of the party when you show up to the game? Do you want a fun, convenient game to bring to your next tailgate party? The Backyard Champs cornhole set might be the best pick on our list for you.
The red and blue bean bags are six inches by six inches in size. Each bag weighs exactly one pound like the regulation boards. The easy fold frames make stowing and towing this game set easy for any age.
| | |
| --- | --- |
| Pros | Cons |
| Light and portable board construction using a metal and MDF frame | The hole may come off center |
| Durable construction | – |
| Most affordable product on our list | – |
| Tailgate size | – |
| Ships at under 28 pounds | – |
---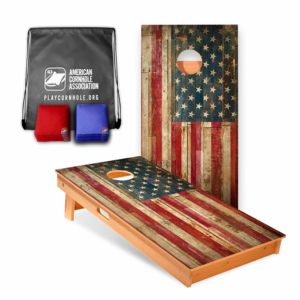 Are you a serious cornhole enthusiast? Do you need a board set that is fully regulation? If you are looking for an official cornhole set, then you may like this version from the American Cornhole Association.
This cornhole set is the only certified regulation set from the governing body. The boards and bags are regulation size and weight. They make this game set in the U.S.A.
| | |
| --- | --- |
| Pros | Cons |
| Officially tested by professionals of the ACA | Heaviest set on the list |
| Solid Baltic birch wood | – |
| Appealing American flag design | – |
| Side handles make carrying the boards easy | – |
---
Buyers Guide for the Top Cornhole Boards
The games come in four different sizes. Tournament regulation, 24 inches by 48 inches, tailgating size, 24 inches by 36 inches, junior or kids' size, 12 inches by 24 inches, and then mini desktop size, which is 5 inches by 10 inches.
Today we are going to focus on the regulation size boards, which are 24 inches by 48 inches, or 2 feet by 4 feet. These boards have a 6-inch hole cut in the surface, 6 inches from the top and 9 inches from the sides. The height of regulation boards is 2.5 to 4 inches from the ground in the front of the board, and 12 inches from the ground in the back. Now that we have our boards selected, we will need some bags. Cornhole is played with eight bags. Four bags in two different colors or designs. Bags are generally filled with 100% whole kernel corn. However, an all-weather filling is available.
How To Play Cornhole: Game Rules
Regulation weight is 15 to 16 ounces, and bags are approximately 6 inches square. After we get our bags, we will need a flat surface, large enough to place the boards 27 feet apart, from front to front. Kids, the elderly, and the disabled can throw from a junior regulation length of 21 feet from front to front. The area on either side of the board is called the pitchers' box. It is a 4 foot by 3-foot area. This is the area where the bags are pitched or thrown from, and either box can be used during the game. However, once inside the pitchers' box, the player pitching the bag must remain inside that box for the duration of the turn.
In singles play, both players must throw from the same board. In doubles play, the same general rules apply. However, teammates must throw from opposite boards. At the beginning of the game, the first turn is determined by rock, paper, scissors, or a coin toss. Once the game has started, rotation is determined by which player scored in the previous inning. If neither player scores in the inning, then the order alternates each inning until someone wins the inning.
Also, the player who is not pitching should remain two feet behind the pitchers' box to ensure that you do not interfere with the player tossing their bag. Throws are alternated until all eight bags have been thrown. Once all bags are thrown, the inning is complete. Players must pitch from the same hand or arm for the duration of the game unless an injury occurs. Once the player steps inside the box, they have 20 seconds to throw the bags. Violation of these rules will result in a foul, and any points made on the tri will be negated. Besides, if your foot crosses the front of the board, that throw is considered a foul, and any points from the toss will also be negated.
Okay, so we now know what we need to play and a better understanding of the rules. So let's take a look at how the score is kept. Any bag that lands on the surface of the board but not in the hole is called in the count and is worth one point. Any bag that makes it into the hole, either on a direct throw or if it is knocked in by another bag from either player, is called in the hole and is worth three points. Bags that miss, slide off, or are knocked off the surface by either player's bags are considered a foul and are worth zero. If a bag hits the ground before coming to rest on the surface of the board, it is also considered a foul and is worth zero. Let's take a look at a simulated inning to get a better understanding of how the score is kept.
Once a player or team reaches 21 or more points and all bags have been thrown, the game is over, and that team wins. If the cornhole or corn toss match is tied at 21 or more at the end of an inning, play continues until one team or another achieves a higher score at the end of an inning and wins the match. The game shall be played to 21 unless a team scores seven or more points at the end of an inning before the opponents score any points. In this case, the game is a SKUNK, and the team that scores seven or more points wins the match.
FAQ Cornhole Boards
What is a cornhole game?
Cornhole (sometimes it is also called as bags, sack toss, beanbag, soft horseshoes) It's a lawn game where players choose to toss 16-oz bags of corn kernels on an elevated platform (board) with a hole at the farthest end. Small bags loaded with dried maize kernels are thrown onto a goal consisting of an upward sloping wooden platform with a gap in this game at one end.
This game is almost identical to horseshoes. Except that instead of horseshoes and metal poles, you have wooden boxes called cornhole platforms and corn sacks. Contestants take turns tossing their bags of corn on the cornhole board before a contestant hits 21 marks. A bag of corn scores 3 points in the pit, while one bag on the board brings 1 point to the player.
The game is normally played in the form of a competition with a single player or team called the champion after the gaming session.
What are the origins of a cornhole board game?
Some claim it was developed in Germany in the 14th century. Others are attributed to the Illinois Blackhawk band. And other sources refer the origins to a farmer from Kentucky back in the 1800s.
Whatever its roots, the game cornhole originated about 15 years ago as a childhood pastime in Cincinnati and quickly spread like wildfire across the United States to backyards, beaches, breweries, and campgrounds. The New York Times reported in 2011 that this favored game of the Midwest is conquering the Northeast. 
Currently, cornhole games in any possible variation are available for sale everywhere. There are even smartphone apps in addition to standard boards adorned with sporting club logos, family names and college emblems.
The American Association of Cornhole appeals to the game's portability and age-friendliness. Horseshoes need a sandpit. Also, they are too heavy and challenging for the kids to pitch – the Association describes on their webpage. On the contrary, cornhole is a lawn game where children and adults can play along. 
What is the goal/mission of the cornhole game?
The purpose of the game is to gain points by tossing bean bags into the Cornhole Board opposite you, or through the hole of it.  Points are earned after each shot when both teams have already placed 4 bean bags – each on the same hand.
Decide who's going first then take turns tossing the competitor packs. You put one ball, then your opponent, then you, then your opponent, and so forth. Your feet cannot stretch beyond the board's front edge. If they do, it's considered a foul and you get pelted with sacks of cornhole. 
A tossing bag could not hit the earth, either. If it reaches the deck, then bounces on the wall, delete it before tossing the more sacks. If it's dangling off the board and hitting the deck, then delete it. When flipping all 8 bags onto the other hand, add the point (see scoring below). If you won the most points in that particular game, your team's going to put in the next round first.
Scoring is quite simple. A bag on the board that persists after all the bags have been tossed is equal to one point. A bag that went through the hole priced 3 marks. Connect how many points you won against your rivals, then equate them. Equal points balance each other such that only one team would be allowed to score each game. 
For instance, if you scored 5 points and your competitor scored 3, you're going to add 2 points to your total score, so your team's going to throw first into the next game. If you scored 6 points and your rival also scored 6, so no points will be given and those who threw first in the last round will be throwing first again. A game is played when a team with a lead of 2 or more points hits 21. The match rewards the first side to play 2 points.
The rules can be upgraded. Some play with the standard regulations, for instance, that you have to precisely hit 21. If you go over in points, your score will be decreased immediately to 11, and the match will begin. Another alternative is to calculate each point (no negation of equivalent points) to see which, after finishing 13 rounds, has the most points.
What are the basic cornhole board specs?
You need to refer to the requirements specified by the U.S. Regulation Cornhole Board: 
It is allowed to play with cornhole platforms (boards) made of natural wood, without any blemishes on the surface;

It is obligatory so follow such dimensions – the board is 48 inches by 24 inches. The cornhole should be 6 inches in diameter;

It is required to center the cornhole 9 inches from the board's top. From both sides, the distance should be 12 inches;

The front edge of the board should be in the range from 2.5 to 4 inches;

The distance from the board's back edge to the ground should be 12 inches;
How many people can play a classic cornhole game?
Cornhole teams usually consist of 2 participants. The teams that have more than 2 players can alternate between games so each game will be completed by the same 2 players. If a teammate is missing, one replacement may be recruited for play, or the player may play single. A team that plays with just one member starts each game with a score of 0-3.
What distance should be between cornhole boards?
For a group of cornhole boards, the regulation size would be 27 ft. This scale travels from one board at the top to the front of the other. You have a variety of different choices as well as calculating this gap before playing.
A cornhole court has to be a rectangular level field 8-10 feet long with a total length of 40-45 feet. The court will be made of two cornhole courts, boxes reserved for the hitter, and foul lines.
The pitcher's box is the 4 by 3 ft. triangle at either court edge, parallel to, and on both sides of, the courts. Any player has to sit in the pitcher box when throwing a cornhole ball.
There are two types of foul lines for children aged 12 and under: transparent adult-play and junior-play. The adult foul lines at the front of each board shall be described as an abstract line at the 27-foot distance. The junior-play foul lines at the front of each board are described as an imaginary line of 12-15 feet apart. To align with the ACA rules the foul line will run parallel to the front of the opposing wall.
What is the winning score in cornhole?
A cornhole game goes on until after an inning is completed the 1st player or team receives 21 points. The winning team should not advance by two points or more.
What are the best surfaces to play the cornhole game?
The most commonly used surface for playing a cornhole game is grass or sand. Both of these surfaces can make for a great playing surface that is gentle on your cornhole bags. Also commonly used asphalt and other hard surfaces.
Video Tutorial: How to play cornhole rules and scoring
When you purchase a game set like cornhole, you want to make sure you are getting the right size and weight bags if you plan to play in tournaments. Choosing the right board might mean easy to tote or how easy it is to carry the kit. We answer some of your most popular questions about these cornhole boards in the following section.
Top questions and answers about cornhole boards
What is inside of the cornhole bags
Some of the kits on our list use plastic beads to ensure they will stand up to any weather. If you are looking for a particular filler, then we suggest contacting the manufacturer to make sure your bags have the right materials. You can also look at online reviews to see what other consumers say about the products.
Do the boards bounce when you throw the bags on them
While the solid wood construction of the regulation boards do not bounce, the plastic and metal frame boards can give and flex. These boards may not be the most popular option if you are planning on tournament play. If you only want a travel set that you can have fun with at football or basketball games, then any travel set on our list might work.
Should I put a coat of polyurethane on the board after I add my decals
Yes. We recommend coating the board after paint, stain, or decal application. Adding materials to the board will cause the bags to catch if you do not ensure the surface is smooth.
Does the cornhole kit come with a carrying bag
Yes. All of the models on our top five list are convenient for traveling. Each set comes with a cornhole bag that holds the boards and the bags for easy carrying.
Our concluding thoughts
If we have to pick a favorite or top choice from our list, then it would have to be the American Cornhole Association set. This kit comes in all regulation sizes and weights. It also has a durable frame. Plus, the American flag design is patriotic.
---