---
Hey! Play!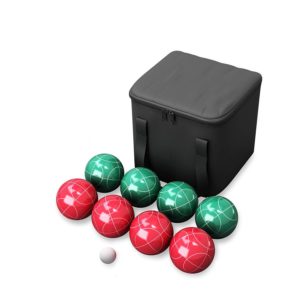 Quality Materials
Convenient to Transport
Fun for All Ages
Playaboule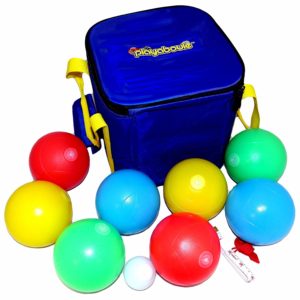 Lighted set
Water proof
Texture balls
Franklin Sports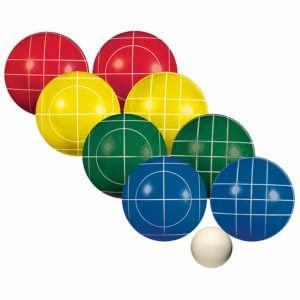 All-weather resin construction
Portable
For kids and adults
GoSports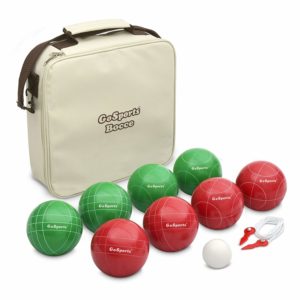 Premium Case
Regulation Markings
Premium Construction
EastPoint Sports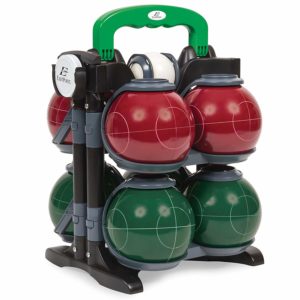 Fun for All Ages
Official Size
Easy Storage
---
Choose the Best Bocce Ball Set
Customer's Choice: the Best Rated Bocce Ball Sets
8 users answered this survey. Please help us improve this review!

12.5% of users selected Hey! Play!, 12.5% selected Playaboule, 25% selected Franklin Sports, 0% selected GoSports and 50% selected EastPoint Sports. Every month we analyze your answers and change our rating.
---
From 5,000 years before Christ, ancient drawings and pictographs show people gathering to play a game we call bocce ball. Other names for this game include lawn bowling or Italian bowling. It is among the oldest outdoor sports or games in the world.
This sport uses balls of specific weights and sizes to play on a court within certain parameters. There are three styles of bocce. These games are Volo, Raffa, and open bocce ball. People can play against each other or as two or three teams of two players.
Hey! Play! Outdoor Family Bocce Game – Best Quality Collection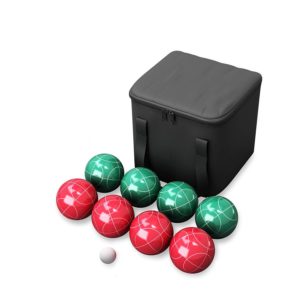 Does your family like to play games at the beach? If outdoor fun is your thing, then you may like this bocce ball set because of the durable construction. These game balls use a poly-resin material to ensure the pieces last.
The red and green balls come with striking lines on the surface. You can score the game in two ways with these markings. The game set comes with a sturdy travel case in black.
| | |
| --- | --- |
| Pros | Cons |
| Bag comes with handles for easier portability | Surfaces may break off, chip, or shatter after use |
| No assembly | – |
| Three and a half-inch balls | – |
---
Playaboule Lighted Bocce Set – Best Editor's Choice Game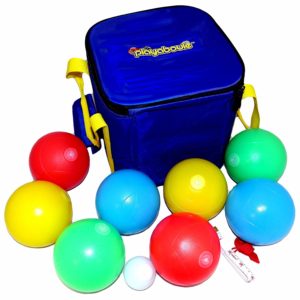 We like a game set that is regulation size and has excellent characteristics. If you like a bocce set that you can take anywhere, then you may like this set. The balls are also waterproof for playing along the beach or near a sprinkler.
These game balls come with LED lights to make playing after dark no problem. You can adjust the lights to flash as you play, or you can leave them solid to ensure you can always find them in the dark. The push-button is below the ball surface so as not to affect play.
| | |
| --- | --- |
| Pros | Cons |
| Only lighted regulation bocce ball set | Batteries may be hard to install |
| Texture on the balls make picking up the balls no problem | Must take batteries out to prevent premature drainage |
| Ships with batteries | – |
| Comes with a measuring tape | – |
---
Franklin Sports – Best Outdoor Bocce Set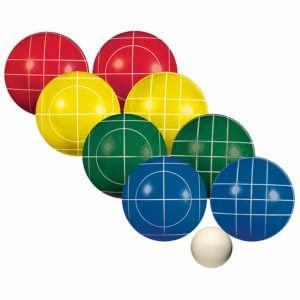 Do you like to go camping? If playing outside games is your style, then you might find this set your favorite on our list. These balls come in four colors making them quick to find when playing in sand, grass, or on a court.
The Franklin Sports bocce set comes with a slim case that will fit in backpacks. You can store this set in the corner of a closet, RV cabinet, or trunk with ease. The balls feature circular and square markings for a variety of gameplay.
| | |
| --- | --- |
| Pros | Cons |
| Regulation weight | Some damage may occur during shipping |
| Tournament size | Balls may crack after playing |
| All-season materials for year-round play | – |
---
GoSports Bocce Game Set – Best Regulation Play Game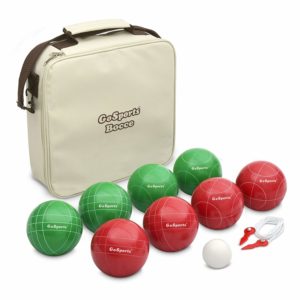 When playing the game like a professional is important, you may like this set the most. The GoSports bocce balls come in red and green colors allowing up to four people to play the game.
The game balls are regulation size and weigh the same as professional equipment.
This bocce ball set comes with a durable carrying case. The game balls include two sets of markings for more styles of play. The manufacturer is a U.S. company.
| | |
| --- | --- |
| Pros | Cons |
| Canvas case comes with a shoulder strap | Balls may crack or chip with use |
| Ball separation in the storage bag | – |
| Play open or official game rules | – |
---
Eastpoint Sports Game – Best Portable Regulation Set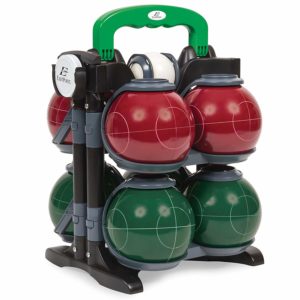 When playing with professional-grade equipment is important, you may like the Eastpoint Bocce set. The red and green bocce balls are 110 millimeters. The pallino is 60 millimeters around.
There is no case to unwrap before playing. The tote stand uses high-quality plastic to give you instant access to the bocce balls. The games come with a measuring tape to mark out the court or measure distances between the balls.
| | |
| --- | --- |
| Pros | Cons |
| Professional game collection | Balls scuff easily |
| Chip resistant materials | Case may break |
---
Buyer's Guide for selecting the right Bocce Ball set
Players can use these game sets to play professional rules or simply for backyard fun. There are three ways to use these balls to play bocce.
Volo bocce
Regulation court is between two and a half and four meters wide by twenty-seven and a half feet long
Throws happen after stating to the referee the item the player wants to hit
Referee marks a 40 centimeter circle around the target before the player can take a shot
May hit one's own ball, another person's ball, or the pallino while at the foul line
Must wait for permission to take the shot or it will become a void toss
There are other rules governing which items a player can hit and how far they can be from the target
Volo balls weigh between 900 and 1200 grams and are between 90 and 110 millimeters in size
A volo pallino is a wood ball between 35 and 37 millimeters around
Raffa bocce
Must declare which ball the player wants to hit
Player must not step over the foul line
Items 13 centimeters or less away from the ball the player indicates are targets as well
The player must throw the ball beyond a particular point on the court or the throw is void
Balls are 920 grams and 107 millimeters around
Raffa pallinos are plastic balls that weigh 60 grams and are 40 millimeters around
Open bocce
May play on non-regulation surfaces like grass, crushed stone, clay, oyster shells, AstroTurf, or flat layers of carpet
Balls consist of eight game balls at 920 grams and 107 millimeters around
Only one pointing line
Balls that hit the backboard first are dead or burned
Players score to 12 points
One team scores per frame unless the frame is tied
Players cannot touch the ball in play until the frame is over
How To Play Bocce Ball
Imagine a game almost anyone can play that combines the best of Skee-ball, bowling, and shuffleboard. Welcome to the ancient sport of bocce. You will need a set of bocce balls, open space or a court, and two to eight players.
Step one. Bocce is the kissing cousin of other games like petanque and lawn bowling, and it's pretty simple. Grab as few as two and as many as eight people and divide into two even teams. Team A and Team B.
Step two. Get a set of bocce balls and find an open outdoor space. If you'd like to play at a bocce venue, visit sites like joyofbocce.com and ibocce.com to find a local court or even information on building your own. You can purchase bocce sets online or at your local sporting goods store.
Step three. There are a lot of variations, but the easiest way to play is called open bocce. A member of team A throws out the smallest ball, known as the pallino or jack, which acts as a marker. The same person gets the first chance to throw one of their larger balls as close to the pallino as possible. Use an underarm throw or roll the bocce balls.
Step four. Now, team B gets their chance to throw a ball as close to the pallino as they can. The play alternates until the larger balls are gone. Whoever lands closest to the pallino wins that set, making them in the team.
Step five. After all the balls have been thrown, the in team scores one point for every ball that's closer to the pallino than the other team's best ball, meaning the one they got nearest to the pallino.
Step six. After the score is counted, the balls are gathered up and the out team throws the pallino to start another round. Play continues until one team scores a set number of points, usually about 13.
Step seven. For a slight variation, try the nearest ball rule. A member of team A pitches the pallino and his or her larger ball. Team B then bowls and tries to get closer to the pallino. If team B lands a ball closer, team A bowls again. If team B uses all their balls and doesn't get closer, team A wins.
Step eight. What's that? You accidentally knocked the other team's ball out of the way, bumped the pallino to a new position, or surrounded the pallino with your team's balls like a fortress? Play both offensively and defensively to become a bocce master.
Video Tutorial: Bocce Ball
Questions and answers about Bocce Ball games
Can you use the balls on concrete
We recommend sticking to playing on softer surfaces.
Can we use the balls in the snow
While some sets say they are all-weather construction, we do not suggest using these balls in the snow. Many buyers say chipping can be a problem with any set.
What is the difference between backyard bocce and regulation bocce
The outdoor bocce sets are primarily for fun and not regulation play. The professional sets are for regulation competitions.
Our final word on Bocce Ball sets
You may like any of these bocce sets for backyard fun. We suggest the light-up version when traveling. Our Top Five list includes both professional and amateur game sets.
---