---
Champion Sports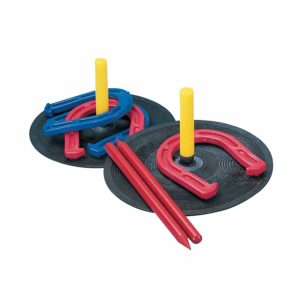 Quality Rubber
Bright Colors
Safe For All Ages
St. Pierre Horseshoes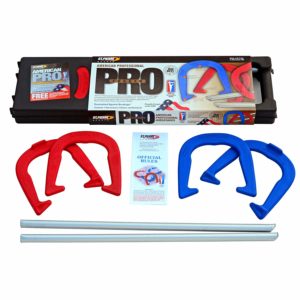 Rugged and Durable
NHPA-approved
Carrying Case
Champion Sports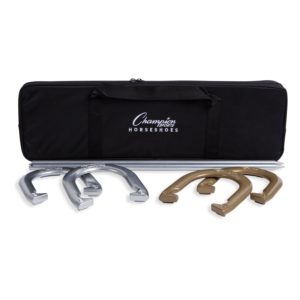 Solid Steel
Resist Rust and Corrosion
Weatherproof Case
St. Pierre Horseshoes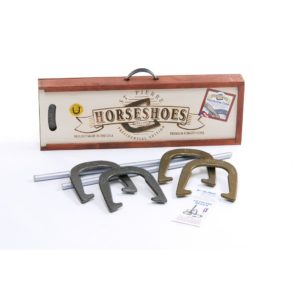 Finger Positioner
NHPA-approved
Solid Pine Box
Harley-Davidson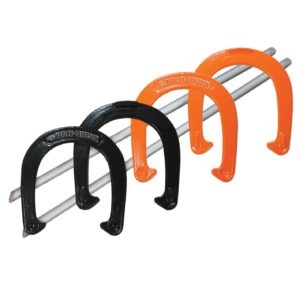 2 Solid Steel Stakes
Bright Colors
Hard Carry Case
---
Choose the Best Horseshoe Set
Customer's Choice: the Best Rated Horseshoe Sets
8 users answered this survey. Please help us improve this review!

62.5% of users selected Champion Sports, 25% selected St. Pierre Horseshoes, 12.5% selected Champion Sports, 0% selected St. Pierre Horseshoes in Wood Case and 0% selected Harley-Davidson. Every month we analyze your answers and change our rating.
---
Called the game of quoits back in Ancient Greece the classic horseshoe throwing is still the beloved pastime by adults and kids all over the world. You may spend many hours outdoors with family and friends when playing this lawn game.
The game of horseshoes is quite simple to understand and enjoy. But you should figure out what horseshoes set fits your requirements. Do you need to invest in a pricey set or a budget-friendly product will work just fine? What to pick – lightweight sets for kids or the game of the standard weight? Also, such factors as durability and the materials are important.
Even if you just seek good value for your money, then this guide will help to make the final shopping decision.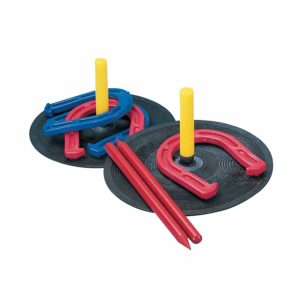 The Champion Sports Rubber set of horseshoes is recommended for indoor use and kids. All 4 horseshoes and 2 mats with center pegs are made of safe and soft rubber. The dowels are plastic.
Such materials are very lightweight and can protect even a little kid from being hurt by accident.
Also, this cheap set (under $18) could be a perfect game to play inside the house because the rubber horseshoes won't damage the floors or walls.
| | |
| --- | --- |
| Pros | Cons |
| Budget-friendly | Cheap build quality |
| Good for little kids | It might smell at first |
| Safe for playing inside | Doesn't include a travel case |
| Lightweight | – |
| Easy to set up | – |
| Easy to throw | – |
| Bright colors | – |
| Good for playing outside, even on rainy days | – |
Though this item can be a great starter set for kids, adults may find this set a bit flimsy. It will be wise to consider how hard to toss these lightweight horseshoes to prevent the pieces from breaking.
These horseshoes are not good for professional training because each piece is about half the weight of the regulation standards.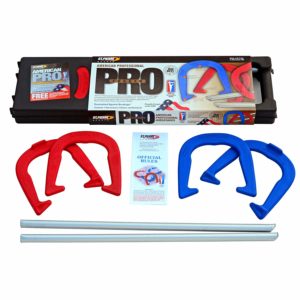 St. Pierre American Professional offers a complete horseshoe set to play professionally or just for fun. It includes 4 horseshoes, 2 stakes and a rulebook. The horseshoe pieces are made of forged steel for better durability.
One of the best features is the increased weight on the horseshoe's tips (toe calks). The design is good for holding and tossing the horseshoes as a pro. The stakes are a bit shorter than they should be (24 inches instead of 36 inches).
| | |
| --- | --- |
| Pros | Cons |
| Good for frequent travels | Short and thin stakes |
| A complete set for recreational and professional uses | Bulky |
| High-quality materials | – |
| A durable black plastic case is included | – |
This set is made in the United States of America that means that it fully complies with the U.S. regulation standards (approved by NHPA). It offers a decent value for $60. Reconsider using this set on a sandy beach because the stakes are short.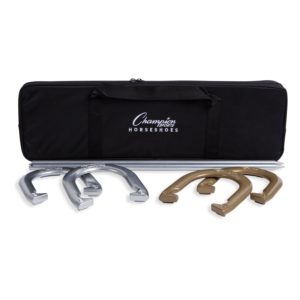 With the price tag around $40, another Champion Sports Horseshoe set can become a perfect addition to your collection of outdoor games. This adult-only set comes in a rugged nylon carrying case that will make the metal pieces safe even on rainy days.
Unlike previous sets, this one is good for playing anywhere outdoors – your backyard, grass field, or sandy beach. The stakes and horseshoe pieces are made of solid steel with chrome and brass coating. It includes the official rulebook.
| | |
| --- | --- |
| Pros | Cons |
| The weather-resistant nylon bag | Only for adults |
| Sturdy metal pieces | A quite thin case |
| Budget-friendly | The colors are bleak |
| Durable | – |
| Suitable for playing anywhere outdoors | – |
The horseshoe set includes the standard weighted steel pieces. These horseshoes and stakes can be great for the traditional gaming style.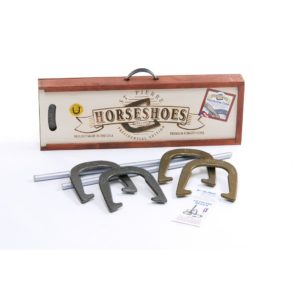 Made in the USA and NHPA approved horseshoe set can become a good choice for professional athletes and leagues. The design is really outstanding – the longer tips of horseshoes are weight forged.
The shoes have a tapered leading edge for better sliding on the stake. Also, there is a finger positioner on each horseshoe to toss and rotate the piece like a pro.
This set includes 4 horseshoes – 2 silver and 2 gold pieces. The silver-plated stakes are a bit short – only 24 inches. The rulebook is included.
| | |
| --- | --- |
| Pros | Cons |
| Good for professional training | Short stakes |
| Smooth tossing | The pieces in the box become too heavy to transport |
| Easy setup | – |
| Improved tips of the horseshoes | – |
| Durable steel pieces | – |
| NHPA approved | – |
| Wooden case looks awesome | – |
This set includes a pinewood case with a nice mahogany finish, burnt logo and an in-built handle.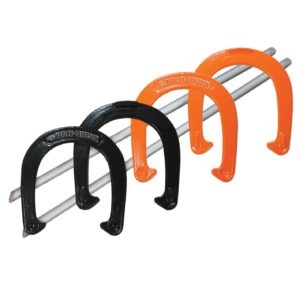 If you need a classic horseshoe set that is good for recreational or professional tossing, check the premium Viva Sol set. It offers 4 forged steel horseshoes delivered in a wooden case with the protective foam padding.
Also, it has tough rope handles if you need to travel a lot with this case. You may choose only between 2 colors – light-blue and tea-green shades.
| | |
| --- | --- |
| Pros | Cons |
| Premium craftsmanship | Short stakes |
| Modern design | Pricey |
| Good build quality | Not many colors |
| The rustproof coating on forged steel pieces | – |
| Solid wooden case with walnut finish | – |
The Viva Sol Premium is a really deluxe horseshoe set. Starting with the modern design and ending with the stunning wooden case, this item deserves your attention if you like horseshoe tossing.
The Buyer's Guide
Material
Typically, mass-market horseshoe sets are made of two materials: rubber and metal. Inexpensive rubber (or plastic) horseshoe sets are good for playing with kids inside or outside the house. Metal horseshoes are heavier and they won't be safe for little kids. But they are more durable and better for tossing.
If you prefer metal sets, you have a few options to choose from:
Drop forged steel is the toughest metal material on this list. Forged steel horseshoes are quite expensive but can serve you for many years;
Ductile iron is usually considered as the "cheapest" metal for horseshoes. This material is not sturdy but rather frail. Yes, ductile iron is thicker and more durable than rubber but it may crack quickly. If you play this game frequently, consider choosing another metal;
Alloy cast steel is more durable and lightweight. Such horseshoes offer the weight balance between heavy forged steel and cheap ductile iron;
Use
Manufacturers distinguish 2 types of horseshoe sets: for professional or recreational use. There is nothing much to add. Cheaper sets with plastic or rubber pieces are better to try this fun activity for the first time or to teach your kid to play this classic game. Expensive professional sets should comply with certain standards established by the NHPA (National Horseshoe Pitchers Association).
Weight
The weight of each horseshoe is an important factor to consider. The weight balance delivers the precision and accuracy required by professional athletes. According to the NHPA standard, a horseshoe must weigh 2.5 pounds. If the horseshoe is heavier, you may have difficulties with tossing it over the stake for long distances. The lighter horseshoes lack accuracy and wind-resistance.
Price
The price for the horseshoe sets varies from $20 to $120. The lower the cost, the more lightweight and plastic/rubber the set is. If you seek a decent build quality complying with the sport's standards, be ready to spend from $50 to $90.
Complete horseshoes sets (with the stakes and a carrying case) for professional players should expect to pay up to $120. Cheap rubber or plastic sets should not cost more than $30.
How to care for horseshoes?
Like with any lawn games the pieces of which are scattered on your backyard, you should gather and clean the horseshoes after every use:
To make the shoes clean, rinse them with water and a bit of dish soap;
Let the pieces dry completely;
If the set had a carrying case or wooden box, keep the clean pieces inside of it;
If you don't have such a case, considering storing the horseshoes out of direct sunlight;
Keep rubber or plastic pieces away from the dogs who love to chew them.
Horseshoes Rules
We use what the National Horseshoe Association of America, the rules that they set up is. That describes the parameters of the pit itself, and it also talks about the pin placement, the angle of the pin, and the height of the pin. All of these things are prescribed even to the point of the slight angle forward that the pin has. In each of these pits, we have the one extremity, one of the guidelines or rules. Basically, the ruling areas are this board that's right here in front. Now, if your partner throws and hits this board before his shoe goes into the pit, that shoe is dead. If the shoe hits here on the side without going into the pit, that shoe is dead. No matter where it bounces if it happens to bounce on as a ringer, it doesn't count. So there's no score on that shoe.
So those are some of the things that we are very careful about. And of course in a competitive game, somebody saying, yelling out real quick, really loudly if you hit wood, "That was a Woody." So that doesn't work and doesn't score. Now we are guided by these parameters, and that's pretty much the control. But we have, again, when you're, depending on what your situation is, if you're out for a party and nobody is exactly sure, they're, somebody's playing the way we used to play back home in Indiana and another guy's playing the way we've played in Jersey. You agree on what is going to be, what's scored. You're going to agree if a ringer still counts three. You're going to agree if a leaner does not count, or it does count for two. You get all of those things squared away before you get into the actual pitching and into the game. And that makes for a harmonious afternoon.
Video Tutorial: How to Play Horseshoes
Final thoughts
By now you should have an idea of the perfect horseshoe set that you actually ready to buy. If you look for a recreational lawn game, check the cheap rubber sets because you can even use them indoors and play with kids.
Such sets can be great startup sets. However, if you seek a professional experience and need the horseshoes complying with the NHPA standards, then check reputable brands that offer premium sets.
---