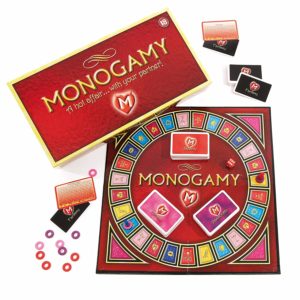 400 seductive ideas
Three levels of play
50 Fantasy Cards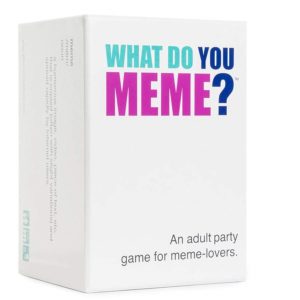 Not intended for Children
For 3-20 players
30-90 minute playing time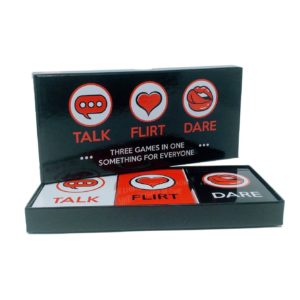 Perfect Gift
Three levels of play
No Complicates Rules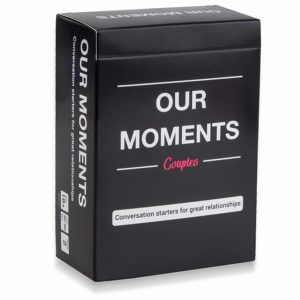 100 question cards
Age 18+
30-90 minute playing time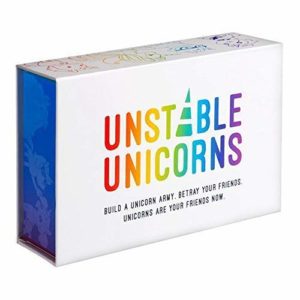 2-8 players
Ages 14+
30-45 minute playing time
When you want to spend a little alone time with a special someone, then playing a couple's board game might be an excellent idea. Whether you are a new couple or a duo who is celebrating several years of togetherness, having something fun to do can be exciting and eye-opening. Learning about each other promotes stimulating conversations and builds a stronger bond.
A few of the games on our list are not just for a romantic night at home. You can also use some games to have an adult party where couples pair up as teams. Some games even allow you to play guys against girls. When you need something to beat the same old card or dice game, then keep reading to see fun options on this Top Five Couples Board Games List.
Monogamy – Best Intimate Game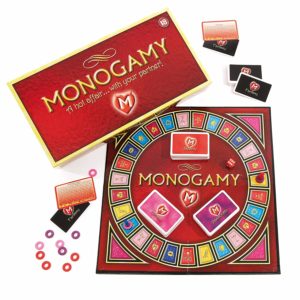 For those nights when you want to avoid binge-watching the same old shows, Monogamy may give you something enticing to tell your partner. This set of cards and dice comes with his and her ideas along with risky propositions.
You may like that this game starts out with a staring contest to see who goes first.
If you like experimenting with each other, then this game might be exactly the right pick. Couples can skip the gameplay and go straight for dream time if they want. The 50 fantasy cards offer ideas for intimate encounters.
| | |
| --- | --- |
| Pros | Cons |
| Three game levels – Intimate, passionate, and steamy | May need other items like a blindfold or sleeping mask to complete some tasks |
| Includes 50 card fantasy deck for fast tracking the fun | Some food or drinks go along with the game, so reading the directions before you want to play is important |
| Over 400 topics | Not available in Spanish |
| Requires no batteries | – |
What Do You Meme – Best Party Game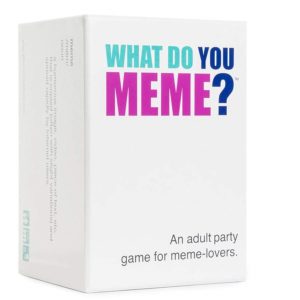 When you have a group of friends that like to hang out and have fun together, this board game might be a great choice the next time you get together. Everyone gets a turn to be the round setter.
When you want to pair up with your buddies or the girls, then this game allows you to rearrange the groups.
Previous players suggest getting the most out of this game by picking caption cards that fit the personality of the judge. Purchasing expansion packs will give you newer memes for playing. This game is for couples, families, parties, and large groups.
| | |
| --- | --- |
| Pros | Cons |
| Adults only | Needs one player to act as a judge to choose the photo each person must caption |
| Premium card bases | The judge chooses the winning person for each round |
| Easel included | May contain old memes |
| 50 picture cards and over 400 task and conversation cards | – |
| Can add up to eight expansion packs | – |
| Storage box stores the cards carefully when not in use | – |
Talk, Flirt, and Dare – Best Box Set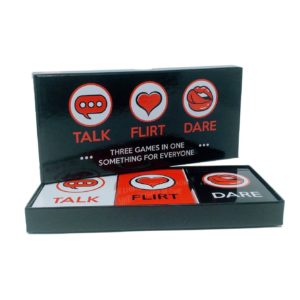 Do you like to play pranks on your significant other? When you want a game that lets you choose the end goal, then you might like this game set.
Whether you are bored or just want to add some excitement to your night, Talk, Flirt, and Dare will add some spice to your night.
When you want to get people to open up at an adult party, this game can help. The Talk cards let couples ask each other questions and play out tame interactions that are safe for group play. Find out what your boyfriend or wife secretly hates while playing this game together.
| | |
| --- | --- |
| Pros | Cons |
| For group or intimate play | No pictures |
| Easy to understand rules and conversations | May run across the same questions after playing it a few times – especially as a couple |
| Three levels to choose from and explore | – |
| The entire set is lightweight making it easy to take on a vacation or to another person's house | – |
Our Moments – Best Conversational Game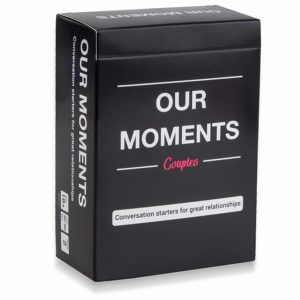 Do you like to find out what other people are thinking? If you are a person who wants to know unusual things, then this game could be a fun way to spend a couple of hours. The goal of this board game is to get people talking.
If you want a conversational game you can play in bed, then this item could be the right choice for you. The game consists of cards that come with a handy storage box to keep the game pieces safe and in one spot. When listening is a skill one or both of you need to practice, then this game could give everyone time to get to know each better.
| | |
| --- | --- |
| Pros | Cons |
| Uses thought-provoking questions to elicit responses | Fewest questions on our Top Five list |
| 100 questions to ask | May contain too many basic questions |
| Convenient size for traveling | – |
| Encourages open communication | – |
| Excellent idea for parties | – |
Unstable Unicorns – Best Multiple Player Game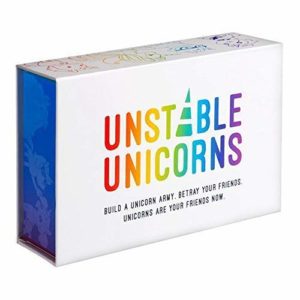 If unique games suit your lifestyle, then Unstable Unicorns might be the wisest pick on today's list. You spend your time building the best army of unicorns while sabotaging your friend or partner along the way.
With rainbow letters and a funky unicorn horn, you will be sure to recognize this intense game. Since there are other card decks one can purchase, this game is easy to upgrade. The game can accommodate up to eight players.
| | |
| --- | --- |
| Pros | Cons |
| Suitable for family time | Game may be tedious to get ready for play |
| Fast rounds at less than an hour each | Long and difficult directions |
| Peoples Choice Award Winner | Most involved game on our list with doubles of some cards |
| Top Kickstarter project | – |
| Uses strategy to destroy other's characters and magic to leap ahead of all players | – |
| Plays as a standalone option and you can upgrade with expansion packs | – |
Best Couples Home Games – Buyer's Guide
When you need a way to liven up a stale party, then pulling out a board game can quickly change the atmosphere. Getting loved ones to put down the phone for some intimate conversation helps promote healthier relationships. We talk about a few of the most common questions people ask about board games below.
Board games FAQ's
Do we need to purchase or find other items to play the game
Some games like Monogamy may suggest using items you can usually find around the house. If there is something you come across that you do not have, then there is nothing wrong with skipping that one and moving on to the next. You can always add the item to next week's grocery list and use it next time.
Can three or more people play
Many of the games on this list are adaptable for party games. However, we suggest playing Monogamy and the upper levels of Talk, Flirt, and Dare in the privacy of the bedroom.
How risque are the games
The tiered games have beginning levels that you can use at parties or as beginner picks. As you progress, these games get more intimate.
Video Tutorial: How To Play What Do You Meme
Couples board games – Final thoughts
We love the idea of playing games to get closer to someone. Having fun at a party is at the top of our list too. We think this Best Couples Board Games List will give you a variety of options to suit your lifestyle. We like Monogamy for getting up close and personal. To throw some excitement into your next event, we suggest going with the Unstable Unicorns game. Finally, nothing says you cannot choose a couple of games. Moods change and, so do preferences.
From time to time, I post the reviews dedicated to other board games but Jenga. By the way, it is a mistake to think that board titles are good only for family nights, kids or teen parties. No, there are specific games you may pick even for a date night, including Jengas for adults and couples.
My girlfriend and I personally tested about 20 adult board games. Some of them are dirty and funny if you know what I mean, others are romantic, the thirds are playful and seductive. The results of these funny tests you can see on this page. Further, I want to explain how and why I picked these particular titles.
Top 3 board activities for couples, according to Jenga-Game:
Monogamy – probably one of the most popular titles in the genre "for couples". It offers over 400 ideas for a seductive date, with 3 interactive levels for play and 50 fantasy cards. A good addition to any date;
What do you Meme? – despite the playful name, this game is not recommended for anyone younger than 18 years. It's funny that the game requires at least 3 players to play, but we managed to have fun without a third person. I can't this game is for every couple, but if you are an internet geek, "What do you Meme?" will be fine for you;
Talk Flirt Dare – a couple-focusing version of "Truth or Dare". There are no complicated rules and boring card-picking. The title says it all. Try this game and your couple will surely have fun;
My idea of this guide was to deliver a number of top-notch funny and seductive titles for couples who want to have a fun time on a date night. I hope you liked my picks. I want to emphasize that every game on this list is under $30. So, they won't kill your budget. And won't collect dust on the shelves because many of these titles can be used for party nights too. What do you think about this review? Don't forget to check the video about one of the games from the list.
---