---
Hasbro Jenga Classic Game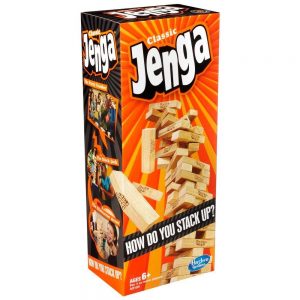 Weight: 2.3 pounds
Dimensions: 1.7 x 6.3 x 8 inches
Recommended age: 8 years and up
Timber Tower Wood Block Stacking Game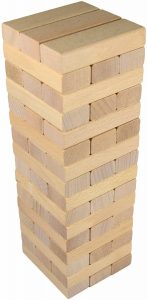 Weight: 2.1 pounds
Dimensions: 3.1 x 3.1 x 11 inches
Recommended age: 3 years and up
Classic Games Colored Wood Tumble Blocks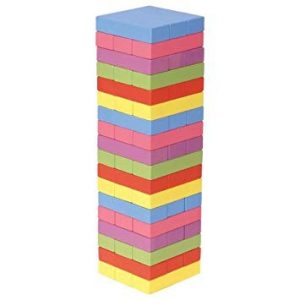 Weight: 1.4 pounds
Dimensions: 11 x 4.0 x 4.0 inches
Recommended age: 3 years and up
CoolToys Timber Tower Wood Block Stacking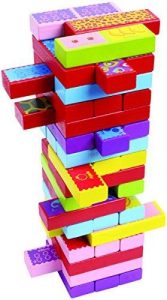 Weight: 2.1 pounds
Dimensions: 3.1 x 3.1 x 11 inches
Recommended age: 3 years and up
Hasbro Wooden Blocks Stacking Tumbling Tower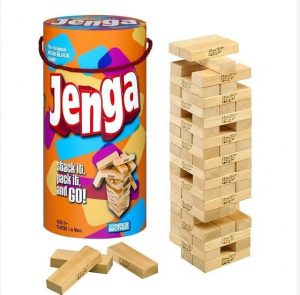 Weight: 2.15 pounds
Dimensions: 1.7 x 6.3 x 8 inches
Recommended age: 6 years and up
WE Games Wood Block Stacking Tower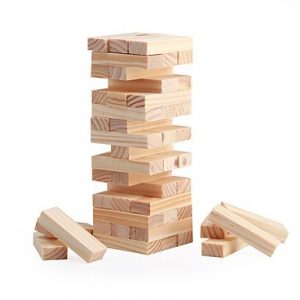 Weight: 2.29 pounds
Dimensions: 12.6 x 3.9 x 4.2 inches
Recommended age: 9 years and up
---
Choose the Best Classic Jenga
Customer's Choice: the Best Rated Classic Jenga
16 users answered this survey. Please help us improve this review!

50% of users selected Hasbro Jenga, 31.25% selected Timber Tower, 18.75% selected Classic Games , 0% selected CoolToys Timber Tower and 0% selected Hasbro Wooden Blocks. Every month we analyze your answers and change our rating.
---
Since the 1980s
Jenga became one of the most favorite party games for killing boredom with buddies and training one's balancing skills. The simple but genius toy was easy to figure out and equally fun to play both for kids and adults.
The classic version
demanded from players building a tower of wooden blocks and then slowly taking out a block after a block until the tower crashes. What makes it great — Jenga is equally good for solo or party play.
Eventually Jenga transformed into a few types: enormous bricks for building a huge tower, mini-blocks and colorful sets used specifically for educational purposes.
There are even soft and squishy squared-shaped pillows that can be arranged as a Jenga Tower — especially awesome for kid's rooms. And even standard lumber pieces are used in versatile ways:
as an alternative to a wedding guest book — people can write their wishes, congratulations, regards to newlyweds straight on the blocks;
in the same way, original wooden bricks are applied for a bridal shower or stag party;
for helping little kids with studying letters, numbers and simple equations;
for making any party funnier due to creating different challenges and missions written on the wooden bricks.
However, despite multiple transformations, Jenga remains the all-American favorite party game among a few generations. There's only one rule — when a tower crashes, a player loses!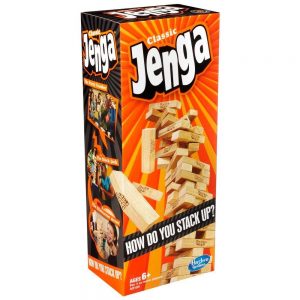 Genuine is a good word to describe this
Hasbro's Jenga
set. It's a timeless toy with every solid block made of smooth hardwood and craved with the recognizable "Jenga" logo on its stem. This set has 54 original bricks for constructing a stack. It's recommended for children over 6 years old.
There's also a special thin stacking sleeve helping to construct the first tower in a quicker manner. Also, the item has all the necessary instructions for those users who had never played this game. This product is the best for the 80s kids who need a nostalgic reminiscence of the playset from their childhood.
| | |
| --- | --- |
| Pros | Cons |
| The detailed guide is included; | New bricks turned to be less squared up than the original set; |
| Good for anyone who is older than 6 years; | A thin cardboard stacking sleeve; |
| Classically shaped hardwood 3-inch bricks with a recognizable logo; | Made of cheaper alder material compared to the original game; |
| Very durable and steady; | The rectangular packaging box while the blocks are squared up — it makes harder to set all parts tightly; |
| No logo or manufacturer's notes on bricks make it a better option for scribbling something with a sharpie. | – |
The greatest pick up for everyone who is looking for classic wooden bricks suitable for writing on them. Recommended to everyone who is seeking a simple and cheap classic set.
---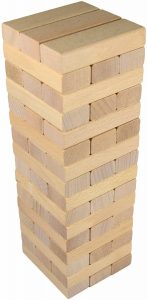 CoolToys released their
own edition
with woodsy blocks that resembles a classic Jenga version. But, instead of 54 pieces, it offers 48 blank and unfinished parts for making a 16-storey tower. A great choice for anyone who seeks an alternative to regular Jenga.
| | |
| --- | --- |
| Pros | Cons |
| Completely blank parts — great for writing or marking; | Not good for children who are younger than 3 years due to the hazard of choking with small parts of the set; |
| All bricks are covered with hypoallergenic lacquer without any chemicals — safe for little children; | Parts are a bit smaller than usual; |
| Solid beech material makes the block super-durable, they are not hollow inside; | There is no an assisting stacking sleeve for building a tower; |
| There are additional 3 dice for making turns. | A cheap box for storing the playset. |
It's an affordable set of high-quality timber parts that will last for many years.
---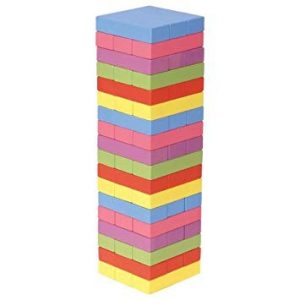 Another decent alternative to regular Hasbro's Jenga. The product includes 48 bricks of natural wood. The main amenity of this particular product is a convenient storage bag. If you need the playset as a gift, this one may be the best solution due to the nice design and packaging.
| | |
| --- | --- |
| Pros | Cons |
| All blocks are pretty smooth and their surface is unfinished — it means the pieces are not covered with paint and a buyer can draw or write something on them; | The cardboard guide easily becomes torn; |
| Exceptionally solid wooden parts; | No plastic insert for building a tower. |
| A nice black bag for storing all pieces. | – |
This product can become an exceptional gift due to the nice smooth pieces kept in a stylish storage bag.
---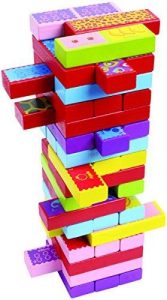 Another
Jenga-like game
made by CoolToys. It differs from the above-mentioned 48-piece with more pieces included. The manufacturer suggests using it for building a wooden tower of
13 layers (4 blocks per each layer)
. Or it's possible to construct a tower with classic 3-brick layers. This particular playset is pretty versatile compared to other products reviewed here.
| | |
| --- | --- |
| Pros | Cons |
| Unfinished blank blocks; | The playset is more expensive than a 48-piece game by the same manufacturer; |
| Smooth parts that are great for sliding; | Made in China, it's not a superior quality. |
| Hypoallergenic covering. | – |
This game can become a nice addition or auxiliary set — e.g. for parties or kindergartens.
---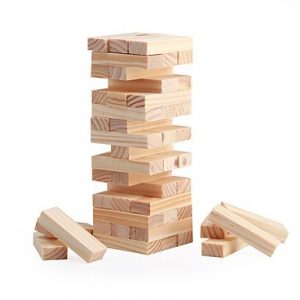 A very special playset that includes a solid wooden box for more secure and easier storage of all parts. When packaged, the set is only 12 inches tall. What makes it really unique is that all pieces, including instruction and dice, are made of solid lumber. It's great for keeping in a small storage room or closet.
| | |
| --- | --- |
| Pros | Cons |
| All parts including a packaging box are made of solid natural wood with awesome smell; | Bulky bricks are a bit larger compared to original pieces, so they may not fit for playing by little kids; |
| Unfinished smooth bricks; | Sometimes an instruction is missing. |
| Two dice are included, along with a detailed instruction. | – |
This is a very compact playset in a very fashionable wooden box of exceptional quality.
---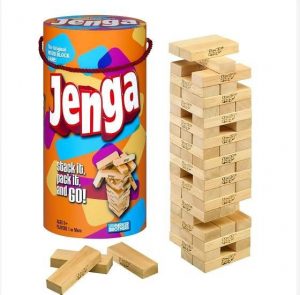 The particular product has the beloved original tube-shaped box with a handle. It may be used for both transporting and keeping all 54 parts in one place. Another bow to the great epoch of the 1980s when Jenga was practically in every American household. The set is also equipped with a stacking sleeve. This is a truly modern interpretation of Jenga. A great choice for all old-school fans.
| | |
| --- | --- |
| Pros | Cons |
| The 2006 edition of a durable and cheerful orange cylindrical container; | Sometimes the manufacturer replaces the original box with a cheaper rectangular version that turns out to be completely useless; |
| Authentic solid wooden pieces with great smooth finishes; | Stacking sleeve is included only with a cheaper version of a container. It's also a bit clumsy to apply when building the game's stack; |
| Even toddlers may play it (under the parental supervision) because bricks are solid but lightweight; | Cheap cardboard "tower holder" instead of an original plastic one; |
| A quick clean-up of the original tubed container; | Occasionally the set is supplied with 50 parts instead of 54 bricks. |
| Easily portable thanks to a handle. | – |
This original edition is manufactured by Hasbro — the producer of an authentic version. It was inspired by the classic Jenga set released in the 1980s. One needs to specify whether they will send the original tubed cylinder or a cheaper packaging box.
---
Classic Jenga games: the buying guide
1. Materials and finishes
Pioneer Jenga playsets were all made of hardwood. Classic bricks must be produced of natural lumber with smooth finishes. Contemporary playsets are offered with rougher parts to make the game more challenging to play on purpose. On the contrary, some products go with finished and slick bricks for better friction. All manufacturers usually specify the material of stacking bricks. It's preferable to select totally blank and unfinished pieces if a person wants to write or draw across their surface.
2. Style and design
Jenga games are usually offered whether with classic squared or rectangular pieces. Old-school gamers prefer to pick up the square-shaped bricks, though it's a matter of personal preference.
3. Packaging options
Like with almost any table or board game set, packaging matters a lot, because it should be durable and convenient enough to keep all pieces intact. If the manufacturer specifies the material for a container, it's better to stick to waterproof plastic or wooden boxes instead of cardboard ones.
4. Affordability
Commonly, a set with classic Jenga bricks will cost under $20. Some manufacturers produce cheaper and more expensive versions of the same products.
---
Review of classic Jenga games — verdict
Jenga is a funny, entertaining game for solo and party play, suitable for players aged from 3 to 93. Besides being funny and addictive to play, this educational toy helps with teaching precision, patience, logical way of thinking and coordination of hands and eyes that is especially important for a kid's game. Jenga is a safe recommendation to everybody who likes board and table playsets, regardless of age and hobbies.