---
Codenames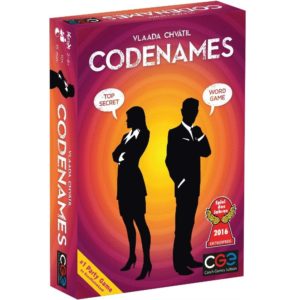 For 2 to 8+ players
Game Time: 15 minutes
Age 14 and up
Splendor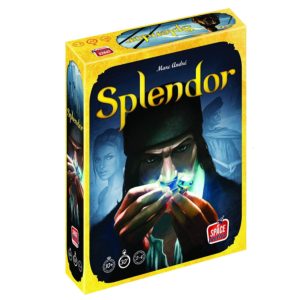 For 2 to 4 players
Game Time: 30 minutes
Age 10 and up
Coup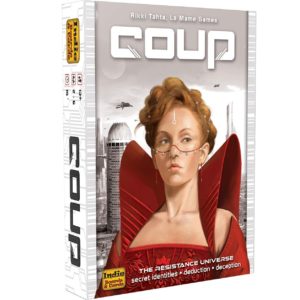 For 2 to 6 players
Game Time: 15 minutes
Age 10 and up
The Resistance: Avalon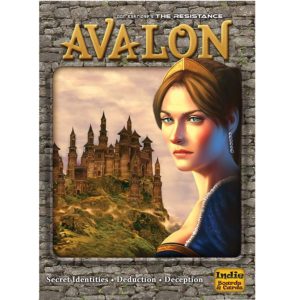 For 5 to 10 players
Game Time: 30 minutes
Fun game
Mafia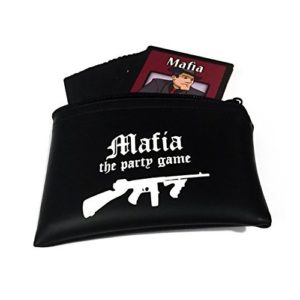 For 8 to 38 players
20 to 30 minutes to play
For large group
---
Choose the Best Deduction Board Game
Customer's Choice: the Best Rated Deduction Board Games
9 users answered this survey. Please help us improve this review!

66.67% of users selected Codenames, 22.22% selected Splendor, 0% selected Coup, 0% selected The Resistance: Avalon and 11.11% selected Mafia. Every month we analyze your answers and change our rating.
---
Deduction board games are considered some of the best titles for kids and teenagers because they help to use logic and wits along with teamwork. But, in fact, adults can also have fun and demonstrate their deduction skills while playing such game titles.They also require a certain amount of deception or deceiving the rivals and are mostly carried out by dialog and allegation.
The section below will include all the board deduction games dealing with basic inference and rational thinking without any efforts, where the players have to master high standards of acting or deceiving.
The comparison table of top 5 deduction board games will help to pick the title for your family and friends. Make sure to check the age appropriateness and number of players to let other participants have fun during the whole gaming night.
Codenames – the best for large groups!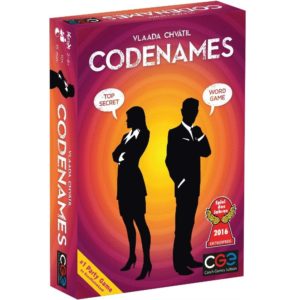 Codenames is a multi-player word game with a basic concept and interesting gameplay. There's not much space for planning in Codenames. Luck and plan come together as players get the initial hints.
Codenames title is also a team game that can be recommended for large groups. You can technically play Codenames with only two players, but it just lacks all the excitement that this group deduction game will offer.
How to play:
Two rival spymasters are familiar with the secret identities of 25 agents. Their colleagues recognize only their Codenames to the police. Two teams battle to see who will first make contact with all their agents. Spymasters suggest one-word hints that might lead to several terms on the screen. Their teammates try to guess the words of the right color while avoiding the words of the opposing team. And they just try to stop the gunman.
| | |
| --- | --- |
| Pros | Cons |
| Many high-quality parts | Not very good for 1-3 players |
| A good game for small teams and large groups | Not suitable for the players under 12 years (despite the age range) |
| The rules are quite simple | – |
| Short playing time | – |
| Good for building social interaction | – |
Codenames is a complex game with easy rules, stressful and crazy at the same time, and it's enjoyable when you win, and much better when you lose.
Splendor– the best for card game fans!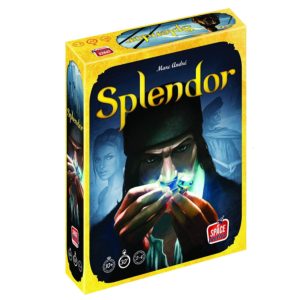 Splendor is a chip-collecting and card-making game. Players are traders trying to buy gem mines, means of transport, shops — all to get the most points.
Within the package, you can find the gems depicted by various colors of the poker chip. There are dense, comfortable materials that are satisfying to stack and play with. There are also simple examples of colored gems on both of them, rendering them esthetically important.
How to play:
As a whole, this game is an easy deduction title. Pick the gems to purchase cards that earn you discounts. Then you can purchase larger cards and gain money. Wins 15 points first.
| | |
| --- | --- |
| Pros | Cons |
| A clear guide for players | The gameplay is not challenging |
| A nice card game for a small group | Lacks replayability |
| All components are tactile and top-notch | – |
[/su_table] It works well as a family or gateway game. It is physically enticing, with tactile components that are a joy to find, considering the more suitable depictions available. The rules are really easy to explain, with a game length of around 30 minutes. It makes it easier to play even in front of an unknown audience.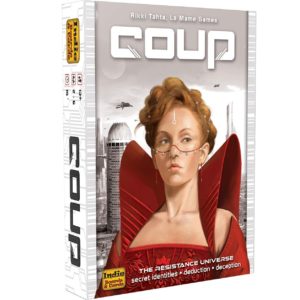 In Coup, you begin with two sides (People's Cards) and use your instincts, deduction and bluffing skills to ensure victory by stealing all others from their control. The game is based in the same setting as The Rebellion, a planet in the distant future where companies are still dominant forces, but there is no connection to the art in all fairness.
The game contains 15 impact cards, a tiny overview card for each player, and some paper coins. It's all in a small box, ideal for a coffee shop or pub. Set-up is pretty instant, it's just a matter of shuffling and handing out two cards to each player and giving them two coins.
How to play: The objective of Coup is straightforward – to be the last player left with a character (or even two) remaining, but it's not as easy as it seems. All the cards are kept secret from the other players, so you never know what someone has.

| | |
| --- | --- |
| Pros | Cons |
| The best for using deduction and bluffing skills | People who can't bluff may get bored |
| Quick-pacing and tense gameplay | Won't do for long gaming nights |
| Easy to learn | – |
| Strategic and funny | – |
| Short gaming sessions | – |
Coup is quick-paced with turnouts going round thick and heavy, and with the ability to challenge other teams, you're still interested in the game. It's going to cater to everyone who enjoy bluffing and deceit. This is an easy, portable card game that isn't costly and can be played just about anywhere, with everyone, and is strongly recommended.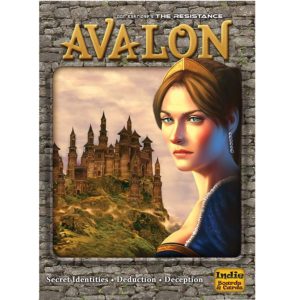 The Resistance: Avalon Social Deduction Game can be picked for corporate game nights because it helps to develop social skills and team building.
In The Resistance: Avalon, you get the role of the Knight of the Round Table, heading off on the journey to save the world. This is unless you are one of Mordred's thugs, purporting to be a knight though actually sabotaging the same quests. This is a quick, noisy and classic social deduction and bluffing game.
It's a fairly little package, with a few various styles of cards, tokens and a few little player frames. All the components sound high quality, and the artwork is great.
How to play: Role cards are given to each player at the beginning of the game, with a fixed amount of positive and bad positions based on the player count. Somebody's going to read the script from the law, and everyone's supposed to shut their eyes and place their hands in front of them.
The bad guys are trying to raise their eyes so they can remember each other. Then they shut them down and held their thumbs up, so that Merlin may open his eyes to recognize them. Then he'll close his door, they'll all put their thumbs down, raise their door and play!

| | |
| --- | --- |
| Pros | Cons |
| Good for building trust and friendly debates | Won't do for cozy family gaming nights |
| Simple and quick to play | Won't appeal to the players who don't want to bluff |
| Good for large groups | – |
| All components are of good quality | – |
The Resistance: Avalon is a popular co-op deduction board game. It's easy to pick up and play, and it invites bluffing, a lot of discussion and dispute. There's a perfect combination of rational inference and instincts and body language at stake. The Resistance: Avalon is strongly recommended if you like games that are competitive, noisy and require conversation and bluffing.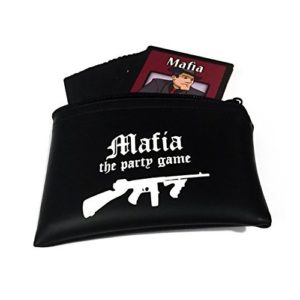 Even people who have never played board games probably know about the party game – Mafia. The party edition includes colorful 38 cards and instructions.
Besides classic characters, new villains and role models were added to involve as many participants as possible.
| | |
| --- | --- |
| Pros | Cons |
| Many new interesting characters | Hyperactive people may find this game long and boring |
| Good for small teams and large groups up to 38 players | Won't do for people who can't bluff |
| Adaptable for kids and adults | – |
| Good for beginners and board game fans | – |
| Easy rules | – |
| Top-notch components | – |
Mafia Party Game has a variety of special tasks that you won't find elsewhere in. In reality, this game has people worked up and against one another. Its gameplay could become a super fun addition to any party or family gaming night. Also, the rules can be explained within a few minutes even to the people who have never played any board games before.
The Buyer's Guide
You should consider a few criteria to pick the best deduction board game for your family, friends or co-workers: 
Age of all players
You need to bear in mind the age of your players and their skills as well as IQ. Or else, the gameplay may be too rough or too simple and dull to enjoy by all the participants. Some games are better for children than adults, and others are really fun for adults. Also, some titles can be inappropriate for children and even teens because of the content.
Luckily, age appropriateness is an important factor that is why you may find the manufacturer's recommendations about the age of players right on the box of the game. 
The number of players
Selecting a great board game relies mostly on the number of participants, whether it's a 2-player or a party game! There are a variety of great classic titles or family games that have to be played in groups where the game itself is not as relevant as the fun of playing together.
Again, there are complex strategic games that involve chess and checkers. These games are specifically built for two players to experience a dynamic competitive fighting game in which the players can work together or against each other. Each board game package has a suggestion about the required number of players. 
Playing time
Obviously, you can't enjoy a 2-hour game if your gaming session is limited by 30 minutes. Deduction board games are typically long and require some time to understand the rules. So if you don't have much time, consider choosing quicker games. The packages with game pieces also have the recommended playing time as it was planned by the developers.  
Cooperative vs competitive gameplay
Teamwork is a great thing, so what might be more fun than making your mates plead for game-induced mercy on the board? The danger is maybe the most significant aspect of this kind of gameplay.
It might be a great low-key thing to do if you're searching for a game to enjoy with your mates. It'll certainly come as a surprise to you by learning how much pleasure a board title offers you, so pick one and have pleasure.
Final thoughts 
The above-mentioned board deduction games are those activities that enable players to make decisions based on the accessible premises. These games are entertaining and fun to play, with a variety of various forms of rational thinking. Make sure your friends and family members like such kind of entertainment. 
---
Video Tutorial: Splendor – How To Play
---