Yard Games Giant Tumbling Timbers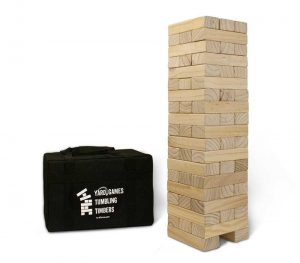 Starts at 2.5 feet
Grows to 5 feet
GoSports Giant Wooden Toppling Tower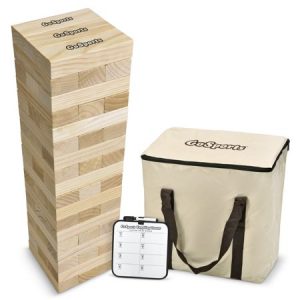 Starts at 2.5 feet
Grows to 5 feet
Jenga Giant JS7 Hardwood Game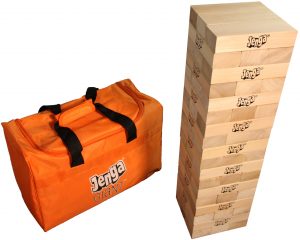 Starts at 2 feet
Grows to 5 feet
Jenga GIANT Genuine Hardwood Game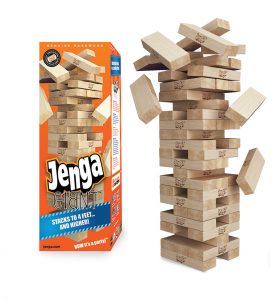 Starts at 22 inches
Grows to 4 feet
Seville Classics WEB482 Block Tower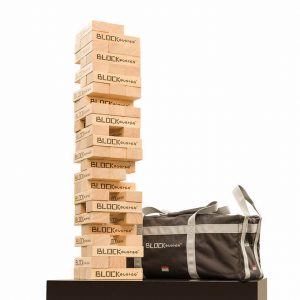 Starts at 1.5 feet
Grows to 4 feet
Splinter Woodworking Co Giant Tower Game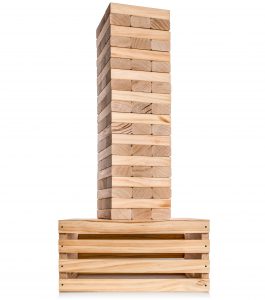 Starts at 32 inches
Grows to 5 feet
Jenga Giant Family Hardwood Stacking Game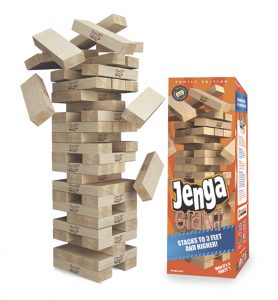 Starts at 18 inches
Grows to 3 feet
Jenga GIANT Premium Hardwood Game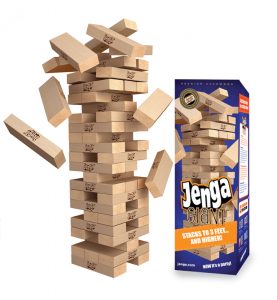 Starts at 18 inches
Grows to 3 feet
Tailgating Pros Giant Tumbling Tower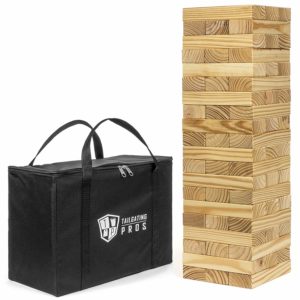 Starts at 24 inches
Grows to 5 feet
Rally & Roar Giant Wood Toppling Tower Game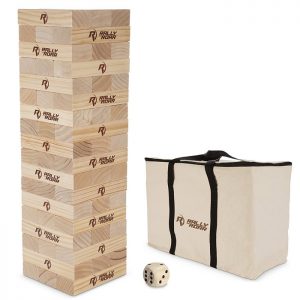 Starts at 2.5 feet
Grows to 5 feet
---
Choose the Best Giant Jenga
Customer's Choice: the Best Rated Giant Jenga
167 users answered this survey. Please help us improve this review!

65.87% of users selected Yard Games Giant Tumbling Timbers, 10.78% selected GoSports Giant , 7.19% selected Jenga Giant JS7 Hardwood Game, 12.57% selected Jenga GIANT Genuine Hardwood and 3.59% selected Seville Classics WEB482 Block Tower. Every month we analyze your answers and change our rating.
---
What can be better than good old Jenga? Of course, it's a
jumbo version
! But as with everything in our life, we face a choice, and in the majority of cases, it is quite difficult. So, how to choose the best "giant" which will bring different emotions to you and your family? We are going to puzzle out this issue in our article. Our team collected eight best options of this world-famous game and is ready to present them to our readers, reviewing all their pros and cons. So, meet the eight best Giants we have found!
Option #1: Tumbling Timbers – a game for everyone
If you are searching for the high tower which you can create both indoors and outdoors – here it is.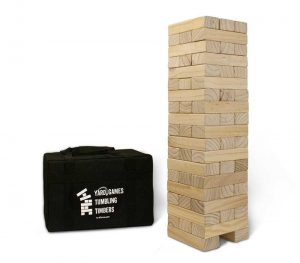 The ideally smooth wooden bars of this giant allows you to create a real skyscraper of five feet in height. The start of this game is on the 2.5 feet level and then rise with your proficiency.
The more skillful players can reach the highest scopes when reaching the maximal height. This game is desirable for everyone whose age is eight years and up. It has simple rules so you shouldn't worry that you may misunderstand something. Everyone, regardless of a generation and profession, will get lots of positive emotions and thrilling moments when pulling out the last brick.
| | |
| --- | --- |
| Main pros | Main cons |
| The game has two additional bars for the lowest level for maximally simple packaging and extra height; | Is comparably heavy; |
| This option comes with a durable case for convenient transportation; | Isn't recommended for children whose age is less than eight years. |
| Can be used both indoors and outdoors so you don't depend on the weather. | – |
If you want to spend more time with your closest ones and get lots of fun – this is an excellent option to choose. Good quality of blocks, five feet of height, and simple transportation are among the main reasons to consider this game when selecting the best "giant" for your family or friends.
Option #2: GoSports Tower – a game for the bravest ones
For the more experienced players who feel that five feet are not enough; we have this variety of Jenga. Consisting of eighteen rows, it can reach the five feet marking and even higher! Impressive, yes?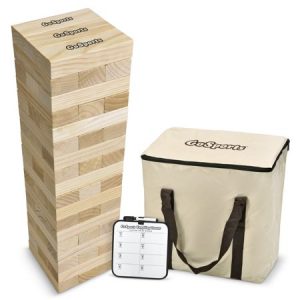 The one more feature that this option can boast of is its blocks. According to the manufacturer, each of the bars of this game was made from the top-notch pine and is ideally polished. You shouldn't worry about possible injuries while playing because of the bar's splintering.
The second option in our list is recommended for everyone who wants to get the highest quality product and set the new records. In addition to this, it comes with a special board where you can write new rules and make the game process more complicated and fun.
| | |
| --- | --- |
| Main pros | Main cons |
| Topnotch quality of the blocks; | You should beware of the poor-quality fakes of this option; |
| The opportunity to set and write down your rules on the special board; | The light color of the case may become dirty comparably fast. |
| The convenient and durable case for the game transportation. | – |
This game will become an ideal choice for those who are aimed at excellent quality and want to add some creativity to the gaming process.
In the wide number of variations of the authentic Jenga, it's not a simple task to choose the high-quality and genuine one. But we did it. The third position in our list is occupied by the giant version of the original game.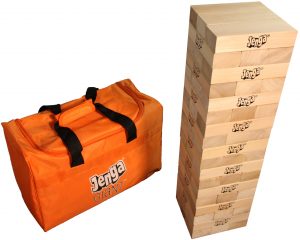 The height of this option can reach the position of five feet and even higher – everything depends only on your skills and dexterity.
As well as the first game created in the far 1970s, this option also consists of fifty-four perfectly smooth wooden blocks.
Interesting Fact
The only one difference in its size which exceeds the classic version for more than fifteen times.
| | |
| --- | --- |
| Main pros | Main cons |
| Ideally polished wooden bars; | Undesirable for children younger than twelve years old; |
| Bright and heavy-duty case for carrying; | Is too large to play indoors. |
| Fits for the one player or for the company. | – |
This is an excellent choice for playing outdoors with the company of friends or in a family circle. The top-notch quality of the bars and the height of more than five feet make this option worth your attention.
Family BBQs, hangouts with friends, various corporate parties, and many more events can be full of fun and positive emotions in combination with a light spirit of rivalry and thrilling moments. How do this everything can be collected together? Of course, with Jenga. The jumbo version of the classic Jenga game which has conquered hearts of the millions of people all over the world can make each event remarkable and unforgettable.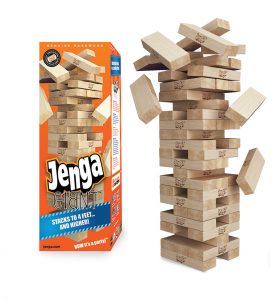 The version which occupies the fourth place in our list is made of the hardwood. It consists of the fifty-four bricks as well as the classic version and can reach the height of four feet.
| | |
| --- | --- |
| Main pros | Main cons |
| You can purchase special booster pack for the additional height; | The pack for additional height is sold separately; |
| Durable hardwood bricks; | Not the tallest version available; |
| Absolutely similar to the classic version but eight times bigger. | Age limit – eight years. |
The option can become a good choice for beginners as you can purchase the booster pack and complicate the game. The high quality of the polished bars prevents possible scratches while playing.
Option #5: Seville Classics Tower – a game with the most durable carrying bag
We all know how cool the giant Jenga versions are. Even if all of them differ by their features, there is one thing that unites all of them. This is the main drawback of all wooden "giants" – their weight. Sometimes even with the availability of the special bag for carrying the game, it is not convenient to take it with you and you are limited with your backyard area. The game on the fifth place of our comparison chart can boast of the best carrying bag ever available.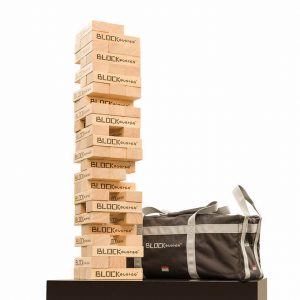 Durable, double-zippered bag with the double stitched handles will help take your favorite game wherever you want without any efforts. You can also store your game in it when not in use in order to prevent wood spoiling with the process of time.
Fifty-four smooth wooden bricks with the maximally reduced friction will make the game full of the competitive spirit.
Interesting Fact
The height of this tower can reach more than four feet but you should do your best to get the highest score.
| | |
| --- | --- |
| Main pros | Main cons |
| Heavy duty canvas bag with two durable and convenient handles; | Prohibited for children whose age is less than three years; |
| The smooth surface of each brick for the reduced friction; | One-year warranty; |
| Fifty-four blocks as in the classic version. | Not the highest version available nowadays. |
If you want to try your ability and other secret skills you use to win, this option will become a perfect choice. It has a good quality of bricks and can be carried wherever you want without any significant efforts.
Most probably when you read the title of the sixth option, you think that we have made a mistake. But no, this game doesn't have any bag for carrying. How is it possible? This version of the good old Jenga has a unique storage crate that can also serve as a table for gaming. This will save you from the permanent necessity to search for the flat surface when playing Jenga outdoors. Also, it will not tear with the process of time as the usual bags do.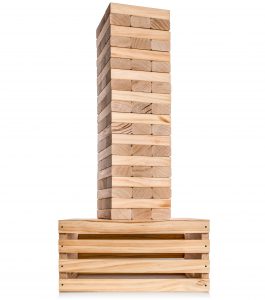 There is one more feature that differs this option from all others – the weight of its blocks. We have already mentioned above that all the giant Jenga games are comparably heavy. This one is an exception. With the weight of only twenty-five lb. and height of five feet it is ahead of other options.
Together with the high quality of the bricks, the features mentioned above make this version definitely worth your attention.
| | |
| --- | --- |
| Main pros | Main cons |
| Lightweight; | Differs from the classic version (has sixty wooden bars); |
| Comes with a wooden crate for storage; | Is more expensive than similar options. |
| Ideally smooth pine blocks for the excellent slip; | – |
| A lifetime warranty from the manufacturer. | – |
So, for whom is this option recommended? According to the manufacturer, everyone from the 0 months and up can play this game. With the lifetime warranty and durable crate for storage in combination with the lightweight, it will become an excellent purchase for all types of events.
Yes, among giants there are also the highest and the smallest ones. The option which occupies the seventh position in our list refers to the tiniest giants and is an excellent choice for kids. The height of this building is three feet, so even if you have never played such games, with this one, lots of fun and success is guaranteed. Each of the fifty-four wooden bricks of this game is well polished and precision crafted. Kids will not get an injury because of splintering the wood as it can be with the poor quality options.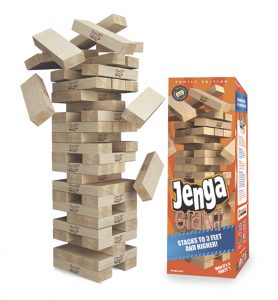 The weight of this game is less than eleven pounds but you can be sure that it will cause a lot of noise when falling! Kids will definitely like the gaming process regardless of have they won or lost.
Nevertheless, you shouldn't think that this version of the classic game is designed only for children; adults will also enjoy the gaming process, especially in a family circle.
| | |
| --- | --- |
| Main pros | Main cons |
| Lightweight; | May seem too simple for adults or experienced players; |
| Well – polished bricks; | Isn't recommended for children whose age is less than six years; |
| Good choice for kids. | Should be stored and transported in a box, not in the bag. |
This well-made and the comparably simple game will become a favorite among kids of six to nine years. It is a good choice for playing in a family circle.
Option #8: Family Hardwood game – a small game with a big crash
As well as the previously mentioned option, this game variation refers to the small giants. This game is intended for people who want to spend the valuable time with the family trying to build a real giant and set the new records. The recommended age for the option is from six to nine years so that it will be an excellent choice for kids. The maximal height of the tower can reach three feet while the sound of a big crash will make the kids excited about the gaming process regardless of the result.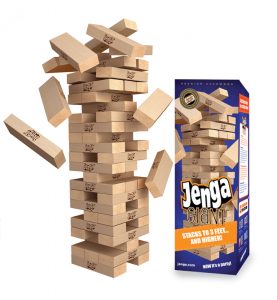 This option is similar to the original version of the game but is six times larger. Each of the fifty-two bricks is ideally polished and slips well during the game.
The weight of this version is less than eleven pounds, so it will not cause any problems to carry the game to the yard or wherever you want to play.
| | |
| --- | --- |
| Main pros | Main cons |
| Designed especially for kids; | Doesn't come with a special bag for carrying; |
| Weighs less than eleven pounds; | Is too easy for adults; |
| Well-polished blocks from the high-quality wood. | Minimal recommended age is six years. |
If you are searching a game to spend time with your kids and get lots of fun – here it is. Simple enough to interest the "small builder", this option will bring many exciting moments and joy of setting the new records.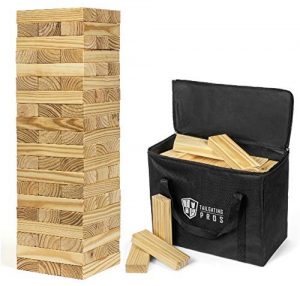 Backyard Jenga is allowed for children from 6 years. The whole family can take part in fun pastime and build the highest tower. This game will be appropriate at a party, wedding, birthday or picnic.
The kit consists of 60 blocks. This amount of game components is enough for a large team of players. You can move the blocks with one hand according to the rules of the game. The smooth surface of wood components makes this process easier and more accessible even for a child.
| | |
| --- | --- |
| Pros | Cons |
| long service life; | kit weight is 24 pounds; |
| this kit is designed for a large company; | it is not advisable to allow contact with water. |
| smooth bar surface for better play. | – |
Blocks for Lawn Jenga have the ability to crack when they fall on a hard surface. You can avoid this by installing a tower on the lawn. Regular glue will help bring the block into proper condition. This will return it to the game.
To hurry or maybe it's better to be more careful? Choose this block or maybe that one? You will never know the right answer to these questions until you try. That is the essence of Jenga. No special rules that always work, no secrets and super abilities. Try, learn from your mistakes, and start again. Each time when you do everything from the very beginning, your tower will be higher and higher. The last option in our list allows you to build the real Burj Khalifa at your backyard the height of which is more than five feet. The game also comes with a dice to complicate the rules and make the gaming process more thrilling for each player. You can create your own rules or find possible variations on the Internet, it's absolutely up to your preferences.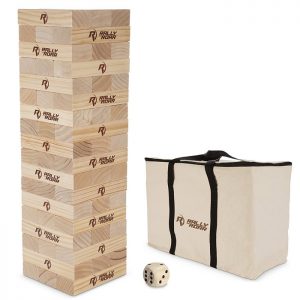 As well as each option presented in our list, this game has high-quality blocks, each of that is smooth and pleasant to touch. The bricks of this game are made of the pine and have smooth edges. In addition to this, the option comes with a durable bag for easy carrying or storage the game.
You can take it to any event that you want to turn into a funny tournament or just to make your own party in the backyard with friends or family.
| | |
| --- | --- |
| Main pros | Main cons |
| All blocks are made of lightweight and durable pine; | Is heavier than the smaller options; |
| The smooth surface of the bricks; | Makes a lot of noise if play inside. |
| Comes with a dice for your own rules; | – |
| Durable bag to take the game wherever you want. | – |
It doesn't matter whether you purchase the game for you and your friends or for kids – this option is a good choice. It is interesting enough for adults and at the same time simple enough for kids. High-quality bricks made of pine will make a great "kaboom" when the construction falls. Good choice for all the Jenga lovers.
Option #11: CoolToys Timber Tower — the original CoolToys 48-piece set for the fans of classics!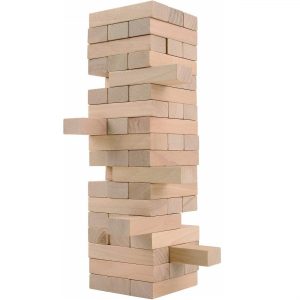 Costing less than $12 this edition is the first one created by CoolToys. The manufacturer offers free 2-day shipping for all buyers. It's suitable for the kids aged over 3 years because the version is completely safe and lightweight.
Unlike the original bundle, this toy has 48 bricks for 16 rows. Logic and communication are significantly promoted when played regularly. CoolToys Timber Tower is a great and safe title that everyone will love!
| | |
| --- | --- |
| Pros | Cons |
| Includes 60 multicolored premium wooden bricks; | Not the top-notch quality — some bricks may chip out easily; |
| 2 versions are available; | A stacking sleeve is not included; |
| Good for little children; | Doesn't have a storage bag or case; |
| Awesome price; | – |
The original CoolToys bundle is cheap, durable and fun to play at any party!
---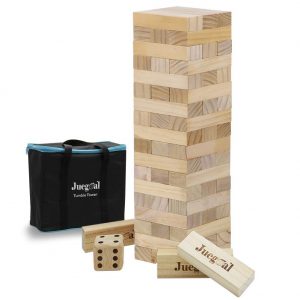 This eco-friendly bundle is made of premium natural wood. The original bundle by Juegoal includes 1 dice with a durable canvas bag. Thanks to the average size compared to other giant editions, the set is great for adult and kid parties.
| | |
| --- | --- |
| Pros | Cons |
| 54 oversized hardwood pieces; | It's better to play outside; |
| A very good price tag; | A nylon travel bag is pretty cheap; |
| Suitable even for little kids (over 3 years old); | – |
| Water-resistant — good for outdoor play; | – |
| Budget-friendly; | – |
| Eco-friendly; | – |
The classic gameplay and original wooden blocks make this set a smart gift for the fans!
---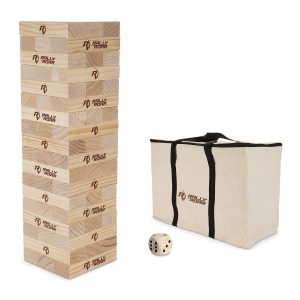 Great for building a 2.5-feet tall construction with premium colored bricks. The Rally & Roar bundle is budget-friendly and includes jumbo-sized pieces. This title is good for transportation because of a heavy durable carrying bag with a wooden dice.
The Rally & Roar products are famous thanks to durability and many additional features. A solid choice that will last for many years.
| | |
| --- | --- |
| Pros | Cons |
| 54 bricks made of premium pinewood; | Not suitable for playing indoors; |
| Water-resistant; | Sometimes a carrying case's zipper is broken; |
| A wooden dice and marker; | The bricks are too small while the tower is very high, the misbalance is possible; |
| A stylish Oxford carrying bag with a black lining; | – |
| Very customizable; | – |
Designed in the United States this pinewood bundle offers stylish orange and blue panels with a solid dice!
---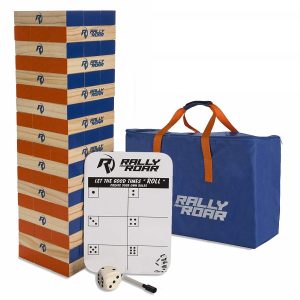 This Rally & Roar premium color edition includes a bonus wooden dice along with a dry erase board. Costing about $65, this set is one of the pro board titles in the category of giant tower-stacking bundles.
The Rally & Roar toy is good for adult drinking parties and family nights but the players must be at least 8 years old. Prepare for the endless hours with a twisting and interesting gameplay!
| | |
| --- | --- |
| Pros | Cons |
| Professional edition; | Heavyweight — about 30 pounds; |
| Compatible for different parties; | Not all bricks are colored; |
| Stylish blue and orange pieces made of pinewood; | – |
| The good price option for a giant block-stacking title; | – |
| Includes a wooden dice; | – |
| White Oxford carrying case; | – |
The multi-colored bundle with stylish bricks under $65 by Rally & Roar is a great gift option for all fans of board gaming activities!
---
Option #15: GoSports Toppling Tower — the block-stacking game with premium pine blocks under $80!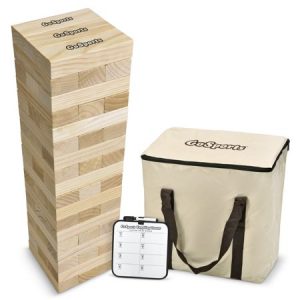 GoSports board gaming titles are famous for their premium quality. Stacking up to 5 feet, this wooden skyscraper will epically fall. Styled with raw pinewood design every brick looks just awesome. This bundle is big but not gigantic — ideal for outdoor and indoor play!
The best advantage for customers is the GoSports Toppling Tower bundle's price — less than $80.
| | |
| --- | --- |
| Pros | Cons |
| A giant size; | The tower is not that large; |
| A dry erased board with bonus rules; | The carrying case is easily ripped out; |
| Top-notch quality; | – |
| Robust carrying case; | – |
| Lifetime warranty provided by the GoSports manufacturer; | – |
The most popular GoSports stacking tower is back and it's affordable enough to buy as additional gameplay!
---
Option #16: GoSports Brown Wooden Toppling — the only edition with hand-selected pinewood bricks!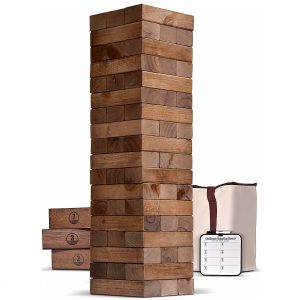 The all-American favorite board activity resurrects as a giant premium pinewood edition by GoSports. This particular item offers classic gameplay with 54 hand-picked pinewood pieces. Gamers build a 2.5-feet tower that may grow up to 5 feet in the process.
Thanks to the premium quality, users may expect the bundle lasts for a lifetime. GoSports supports all its products in the United States with a lifetime warranty, including these sets. GoSports Wooden Toppling is the perfect party-ready gaming activity with premium pieces!
| | |
| --- | --- |
| Pros | Cons |
| Classic board with premium pinewood blocks; | The size is between giant and classic; |
| Lifetime warranty; | The pieces are not slippery enough, making it harder to remove some bricks; |
| Good for indoor and outdoor playing; | – |
Pick the gigantic 18-row game for backyard playing — GoSports offers a lifetime warranty for this premium pinewood title!
---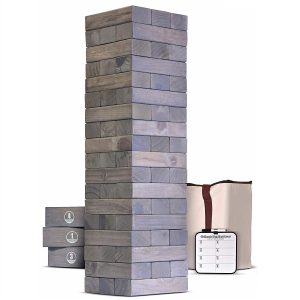 Varied by the type of wood used for the bricks, every GoSports Jenga-like game is good in its own way. This particular GoSports product is a premium version where every piece is made of natural pine.
Players will enjoy the smell and look of wooden blocks that are heavy and durable, with almost a lifetime warranty. The peculiarity — stained solid pinewood bricks giving the set a real one-of-a-kind experience.
| | |
| --- | --- |
| Pros | Cons |
| 54 pinewood bricks with stained solid design; | Wooden blocks must be protected from water and moisture; |
| Bonus rules and a dry erased board are included; | The carrying case is not completely waterproof; |
| Possibility to create a giant 5-feet tower; | Blocks may adhere to one another; |
| The manufacturer gives a lifetime warranty for US customers; | – |
| Handy carrying case; | – |
Enjoy playing the premium 5-feet grand pine edition by GoSports at home parties.
---
Option #18: Seville Classics Premium — the 4-feet block stacking title under $65!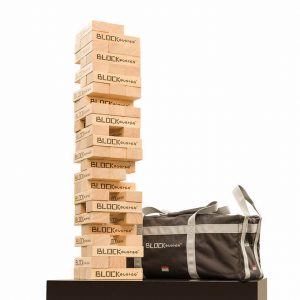 The great set for the ultimate summer plays outdoors. Imagine what a family picnic will be like with this oversized edition of the all-favorite title. When assembled the wooden skyscraper stands at least 1.5 feet tall.
When stacking up during playing up to 4 feet. The item is cool for 18 rows of block stacking. The main distinctive feature of this version is the budget-friendly price tag — under $65!
| | |
| --- | --- |
| Pros | Cons |
| Solid wooden bricks with smooth finishes; | Wooden pieces are heavy and may hit pretty hard; |
| Thick and durable carrying bag made of black canvas; | The size is something between medium and large; |
| Users may write something down on the completely blank bricks; | – |
Specifically designed for competitive gaming activity this title delivers the ultimate Jenga experience with an oversized twist!
---
Option #19: Yard Games Giant — the best jumbo-sized game with a nylon carrying case!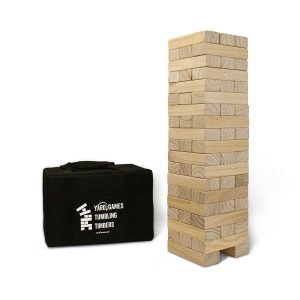 The whole family can enjoy playing the Yard Games Giant. It comes with 56 original bricks (2 spare pieces) for delivering the classic tower building of 2.5-feet tall. This unit was specifically designed for indoor/outdoor activities like BBQs, group parties, camping, etc.
The peculiar feature of Yard Games Giant — a high-quality durable nylon case for keeping all 56 pieces in one place! The good choice for active use with kids and pals.
| | |
| --- | --- |
| Pros | Cons |
| 56 dried and hand-sanded blocks with a smooth surface; | Some blocks are very sharp and hazardous for cutting the fingers; |
| Classic rules; | Sometimes users get a wet box with humid bricks that are not suitable for playing; |
| A very durable and stylish case made of high-strength nylon; | The zipper of a nylon case is easy to break; |
| Big but not gigantic pieces; | – |
| Quick setup; | – |
| Bricks do not chip easily; | – |
The Yard Games Giant is awesome when it comes to packaging and the optimal size for indoor/outdoor activities!
---
Option #20: Tailgating Pros Giant — the best 60-brick title under $70!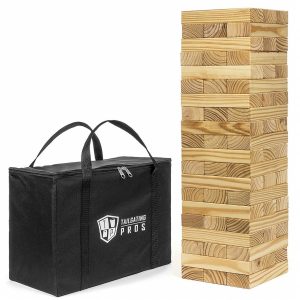 Players make a 60-block tower with 20 rows, over 5 feet. Made of pine timber this stacking title offers the bricks with smooth edges for a safer and easier grip. This jumbo-sized product may be worth the buyer's attention due to a high-density carrying case.
It's suitable for the players aged over 8 years and can become a great addition to any outdoor party. Tailgating Pros Giant comes with a lifetime warranty.
| | |
| --- | --- |
| Pros | Cons |
| Premium carrying case; | It's not the biggest edition; |
| 60 pieces with smooth edges; | Not very good quality of the bricks; |
| All oversized details are made of pine; | – |
| Excellent price; | – |
| Completely blank pieces; | – |
The perfect 60-block stacking tower with the price tag less than $70.
---
Option #21: Splinter Woodworking Co — the 60-block tower with outstanding classic gameplay!
Another oversized outdoor Jenga with big bricks.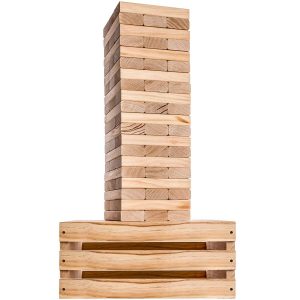 The main difference is the ability to construct a 5-feet line of 60 huge bricks. Compared to the classic title, this one can offer 60 massive bricks, instead of 54. Despite the size, bricks are lightweight and won't hurt the players when falling.
Also, unlike most giant boards this product is good for playing indoors and outside.
| | |
| --- | --- |
| Pros | Cons |
| 60 pieces; | The blocks can be easily stained; |
| Made of premium wood; | Very bulky; |
| Lightweight massive bricks; | Some pieces are missing; |
| Includes a storage wooden crate that is hard to rip, instead of a bag; | Bricks are too thin; |
| All blocks are blank and good for customization (doodles or scribblings); | – |
| Quick assembly; | – |
Made in the USA this Splinter Woodworking product is a great alternative to old-fashioned items.
---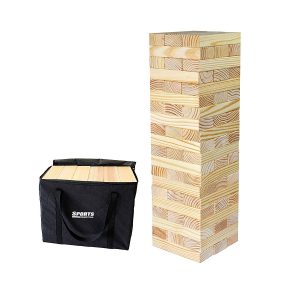 Looking for a funny tumbling game? This Sports Festival bundle is awesome for the lawn gameplay. An easy-to-carry bag makes this set portable. Enjoy playing with buddies this jumbo title. One of the greatest products in the famous lineup is offered under $100.
Unlike authentic products, this is the most affordable item with a classic block-stacking tower. Also, this is a giant 60-brick raw wood edition that allows building a massive 2-feet skyscraper with 20 rows.
| | |
| --- | --- |
| Pros | Cons |
| Convenient to carry due to a storage bag; | Pieces can be delivered broken; |
| Despite the jumbo size, the title offers classic gameplay; | – |
| Every massive brick is made of raw wood, with natural growth rings; | – |
| Good for playing outdoors and inside; | – |
| Wood is sanded and sealed; | – |
One of the most budget-friendly Jengas for group events, parties, camping, and other outdoor activities.
---
Option #23: JengaGIANT Genuine Hardwood — the greatest choice for building a 4-feet construction!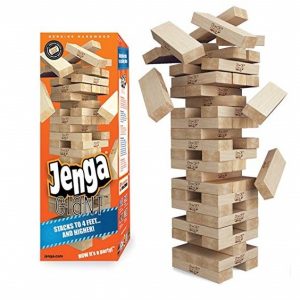 This premium edition offers bigger stakes for those gamers who seek for the most gigantic tower-building titles. One of the best amenities is an enormous storage bag for quick transportation of all hardwood blocks from one place to another.
This is an ultimate gaming activity for outdoor parties — create a 4-feet tower of enormous bricks made of natural wood!
| | |
| --- | --- |
| Pros | Cons |
| Handy storage bag; | Expensive — over $100; |
| Over 8 times bigger than a classic title; | Not suitable for little kids; |
| A genuine booster pack for other Giant Jenga editions; | Not weather-resistant; |
| Polished bricks are precision cut and made of natural hardwood; | – |
| Suitable for writing (with sharpies); | – |
The oversized 54-brick version of the popular gaming product. Good for outdoor playing!
---
How to Play Giant Jenga
Giant Jenga is set up by building a vertical tower with the Jenga blocks. The tower is built by stacking three side-by-side blocks in each row. Each new row formed is turned 90 degrees from the blocks in the row below it. The objective of the game is to be the last successful player to remove and stack a block before a player makes the tower fall.
The player that built the tower is first to play. A term consists of a player removing a block from the tower and placing the removed block on top of the tower. The player's turn ends 10 seconds after the block has been placed to top the tower or once the next player touches a block.
Players continue to take turns, removing and stacking blocks until the tower falls. The last player to successfully remove and stack a block without the tower falling wins the game. The player that caused the tower to fall has to set up the tower for the next game.
A player can only touch blocks with one hand at a time. A block can only be removed from below the top most completed level. That wraps up how to play Jenga.
Jenga, also known as Janga, Tower, Pile, etc. Listing all names for the Jenga's clones is pointless. Because their amount is infinite. Regardless of the title on a box, all these games are united by one idea and incredible popularity.
Jenga remains the most popular New Year gift when it comes to board games. Probably, due to very simple rules, thrilling gameplay, as well as a wide price range. The price tag for a title may vary from $10 to $150. This review covers all available options that are worth their cost.
How to distinguish an original title from counterfeits?
The original product consists of 54 rectangular wooden blocks. The surface of each block is carefully polished, but not coated with varnish or paint. Such effect increases the friction between the elements of the structure and does not allow the tower to crumble. The block sizes of the classic version of the game are 1.5 x 2.5 x 7.5 cm.
With the growing popularity of these bundles, many of its "remakes" appeared on the market, the dimensions of elements of which may differ from the original title, but the ratio of the sides of the blocks is mainly preserved.
In most fake editions, there are 51 blocks of rectangular shape. As a result, the initial tower is obtained one floor lower than in the classic name, but the height of the structure is greater.
The most important difference is how players place the bricks. In counterfeits, the blocks are installed on the short side of the section with significant gaps between the elements of one row. At the same time, the original blocks stand close to each other on the long side of the section.
The Most Frequently Asked Questions About Jenga:
1. How many pieces are in Jenga?
The classic title includes 54 authentic wooden bricks, they have to be smooth enough but not very slippery. Such amount is easy to explain: the creator Scott liked the number 18 and 54 is a multiple of it.
However, the first ever product with such name offered only 48 pieces. The fun fact is that the worldwide record for this highest tower was 40 complete rows, back in 1985.
2. What size are Jenga blocks?
Every standard brick is 3 times as long as it's wide, and 1/5 as thick as it's long. It means:
0.59 in × 0.98 in × 2.95 in. Despite the common belief, blocks are not milled to make sure they are identical. Some pieces can be a bit shorter, the others — a tad thinner.
3. Who invented Jenga?
The board gaming designer Leslie Scott who founded Oxford Games Ltd. is a creator of the most classic edition of Jenga. The idea came up to her when she lived in Ghana, this title has African roots.
4. When Jenga was invented?
The first board title with the classic rules was released in the 1970s. But the Hasbro product was introduced at the London Toy Fair in 1983.
Conclusion
So, summing up all mentioned above, we are close to answering the main question – which giant Jenga to choose? First of all, try to choose the high-quality options with the well-polished bricks, otherwise, you risk getting injuries while playing. Also, you should decide how high you want your tower to be. To date, you can choose the smallest versions such as three-feet options or purchase the real giants of five feet and more. If you want to get the version which is maximally close to the classic one – choose the game with fifty-four bricks. At the same time, if you want to complicate the process and add your own rules, you can choose among version with dices.
Actually, it doesn't matter what are the dimensions of your Jenga is and how complicated will be its rules – with the good company you can get the unforgettable positive emotions playing it. All the modern giant versions come with durable bags for carrying, so you can take it wherever you decide to go and enjoy the gaming with the closest ones.
The classic never gets old. This refers to the Jenga which was created in a far 1970 and remains extremely popular nowadays. Being created as for game for one family, it has conquered hearts of millions of people worldwide.
---