---
Candy Land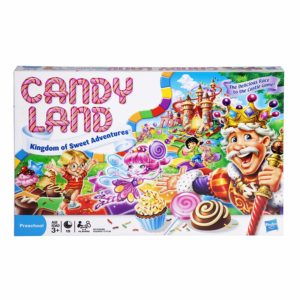 Ages 3 & Up
For 2-4 players
15 minute playing time
Zingo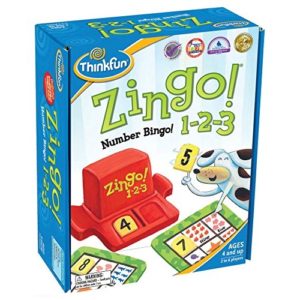 Ages 4 & Up
For 2-6 players
Parents
The Ladybug Game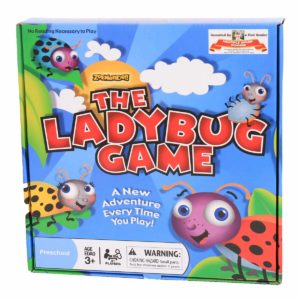 Ages 4 & Up
For 2+
20 minute playing time
Alphabet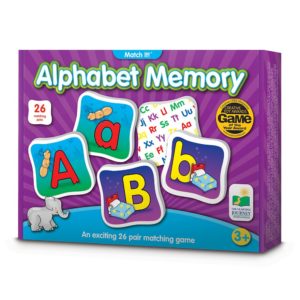 Ages 3 & Up
Good for Memory
26 Matching Pairs
Dont Break the Ice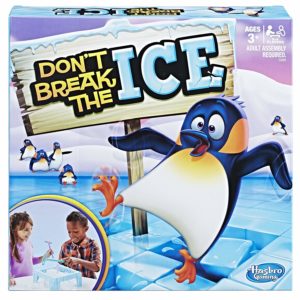 Ages 3 & Up
For 2-4 players
Great Family Fun
---
Choose the Best Board Game for 4 Year Olds
Customer's Choice: the Best Rated Board Games for 4 Year Olds
195 users answered this survey. Please help us improve this review!

13.85% of users selected Candy Land, 20% selected Zingo, 36.92% selected The Ladybug Game, 12.31% selected Alphabet and 16.92% selected Dont Break the Ice. Every month we analyze your answers and change our rating.
---
Board games have many benefits for four-year-olds, including turn-taking, sportsmanship, problem-solving and more. To help your child learn these skills during their preschool years, be a good role model by playing board games with them often.
Each game has different levels of play, which are easy for toddlers and challenging for older children. Each game also doesn't take very long and encourages re-play!
What are the best board games for 4-year-olds? What should a parent look for when picking out a new game to play with their child? These are questions that many parents ask themselves. This article will go over some of the best board games for 4-year-olds, as well as what you should be looking for when making your purchase.
Experts will also provide reviews and product recommendations so you can make the most informed decision possible!
Candy Land Kingdom of Sweet Adventures Board Game – the Editor's choice!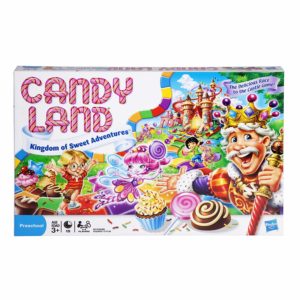 Do you remember playing Candy Land when you were a kid? Introduce new generations to this sweet kids' board game. Engaging for children, the Candy Land Kingdom of Sweet Adventures Board Game features colorful illustrations and thematic destination cards that players move around in an effort to reach the castle as quickly as possible.
Players encounter all kinds of "delicious" surprises as they race on their cute gingerbread man pawns towards victory, so get ready for such yummy adventures!
For a classic twist on beginner games, there's no better way to have fun than with your very own Candy Land. The no-reading-required game is necessary for kids who haven't learned how to read yet!
Pros
Pros
Designed for 2-4 players;
Good game for toddlers who can't read;
Addictive gameplay;
Helps to develop logic skills;
Colorful and fun illustrations;
Cons
Cons
Spaces are too small;
The board is too thin;
With full color cards, different colored paths, and illustrations that make it completely engaging, Candy Land offers hours of entertainment – sometimes even for adults too!
Think Fun Zingo 1-2-3 Number Bingo Game – the best for developing logical skills!
The award-winning Zingo 1-2-3 game is an easy to play game that will introduce your kids to counting, simple addition, number sense and word recognition skills. Parents love it for its stealth learning experience – your child may not even realize they are developing these critical and logical skills!
Your child will learn counting, simple addition, number sense and word recognition skills while playing this fun game.
The high-quality instruction manual will get them started quickly so the fun can start as soon as possible.
Pros
Pros
Nice concept and design;
Helps to develop critical and logic skills;
Good to learn counting and numbers;
Clear instructions;
Cons
Cons
Pricey;
Some tiles are missing;
The Zingo 1-2-3 Number Bingo Game by ThinkFun can be perfect for enhancing their coordination, word recognition skills, fine motor control and basic math skills while also having fun playing the game to win some coins.
Zobmondo!! The Ladybug Game – the best for the first board game!
Zobmondo!! is the pretty-in-purple board game with a ton of personality. It includes beautiful illustrations, cleverly illustrated instructions, and simple enough rules that are easy to understand. Meal after meal, you'll find yourself in the middle of something new and exciting as you play until all your ants have been fed!
For 2-4 players aged 3+, this challenging little gem will be sure to spark imaginative playtime for everyone in the family.
Designed to be inclusive and appropriate for all ages, this game will help teach your kids addition and subtraction while giving them the opportunity to explore basic bugs like ladybugs with their friends! With a range of different difficulty levels, amazing graphics and components, Zobmondo!! is great for any age group from kindergarteners up to adults.
Pros
Pros
A great first board game;
Good gift idea;
Fun for the parents as well;
Designed for 2-4 players;
Helps to learn about some bugs;
Cons
Cons
Small parts can be dangerous;
Some parents claim that this game is a bit challenging for kids;
Easy to tear apart;
Zobmondo!! The Ladybug Game will teach your kids basic math concepts as they add and subtract to feed the ants, escape the praying mantis, and deliver Ladybug safely home. Zobmondo's inclusive gameplay is designed to be fun for all ages so that you can play it with your whole family.
The Learning Journey: Match It! Game – the best to learn ABC!
Were you looking for that one game to share with your little ones? The Learning Journey: Match It! Game is a game they will not just love, but also learn from as they play. From letter recognition to the alphabet and reading skills, this game aids in all early learning concepts through different levels of play suiting various ages and skill levels.
Let these adorable little cartoons teach your toddlers their ABCs with 26 tricky puzzles. As kids tune into their memory skills, their self-esteem builds when they successfully complete each match made by matching scrambled letters on the cards face up on the table.
Pros
Pros
Designed for solo or 4 players;
Helps to learn ABC;
Improves memory skills;
Easy to understand;
Bright;
Thick cards;
Cons
Cons
Sometimes it misses pieces;
Not a unique design of letter cards;
The Learning Journey game is a 1-4 player alphabet memory match game that teaches children the beginning sounds of each letter in alphabet, why your capital and small letters are different, and more. The pictures make it a fun way to learn with playing this competitively proving the best way to master one of lives most hard tasks – learning!
Don't Break the Ice Game – the best for family gaming nights!
Don't Break the Ice Game is a classic, family-fun ice game that's been around for decades. It includes everything you need to play: Phillip the Penguin and instructions.
Tap out ice blocks one by one and keep Phillip the Penguin on top of the frozen water pan. It is good to play with 2-4 players or enjoy solo playing – doing this might help make those hours in front of screens seem more charming somehow. It even includes a large rectangular block of ice so that you can play at any time.
Pros
Pros
Good for family game nights;
Classic game loved by adults and kids;
Designed for 2-4 players;
East instructions;
Cons
Cons
Some users claim that the older version was better;
Average quality;
Each session is only 1-2 minutes;
This is a must-have game to play during the winter. 2-4 players tap out one ice block at a time until there's only Phillip the Penguin left and then he wins with all of their frozen friends!
The Buyer's Guide
How Board Games Prepare Kids for School?
Board games teach kids the importance of patience and good sportsmanship. They also help children build vocabulary, critical thinking skills, and socialization abilities as they learn to interact with other players. The best board games for preschoolers are ones that encourage cooperative play among family members or friends who come together to work on a common goal while using their own unique set of talents to contribute toward victory. 
Also, kids who play together in early childhood will be more likely to work cordially during classes on subjects like math or science later down the road. In addition, cooperative learning is an effective way to teach preschoolers how to take turns when there isn't one clear winner at the end of every competition – this can help them deal with adversity instead of giving up before trying something new. 
Board games also prepare kids for school by allowing them time off from being told what to do – sometimes you just want to spend some free time having fun.
Common types of board games for preschoolers
3 common types of games are available in most stores or online:
1) Classic family favorites include Candyland, Chutes and Ladders, Trouble, Sorry! (and other versions), Yahtzee, Monopoly, as well as many others. They're easy to find at toy shops and department stores. Some classic family favorites have electronic components – electronic dice using numbers instead of dots; cards showing touch screens.
Many of these classic games offer a lot for children to learn about, with simple rules that can be followed at first and become more challenging as they get older. They're also entertaining activities that kids will want to play over and over again. Many parents find them useful tools for teaching their children essential life skills while keeping everyone entertained during family game night or other special occasions.
2) Educational board games are designed to develop skills in math, language arts, geography and more. These types of games can be found at educational toy stores or online. These board games help 4-year-olds develop important social skills like sharing, taking turns, turn-taking , negotiation (talking through problems), cooperation (working together), empathy (understanding what someone else is feeling), perspective taking (putting themselves in the shoes of others), conversation when playing with siblings and friends, and more.
3) Interactive toys with built-in electronics – like interactive plush animals (animals that blink their eyes and make animal sounds), robots, and action figures equipped with sensors and motors allowing them to respond when they're moved a certain way by the child playing with them. Vehicles like race cars that have buttons kids push to hear different engine noises – typically involve complicated assembly (some require batteries) before play begins. Some also include small pieces that pose safety hazards for young children who might swallow them.
Board games provide learning opportunities while being fun, challenging ways for families to bond. The best board games for preschoolers can be used to teach basic concepts, social skills and even math or language arts in a way that's fun rather than tedious (and doesn't require parents "teaching" the child every step of the game).
Board games also encourage family time together – a valuable component of children's development. Each person takes a turn while playing the game; there are few winners or losers unless everyone has agreed it will work this way before starting play.
Many families create their own board games using items they have at home so kids learn early on about creativity, problem-solving , planning ahead to get from start to finish successfully and more. These types of self-made educational toys are often the most valuable in terms of teaching children concepts and skills while having fun at the same time.
The best board games for preschoolers are those that provide an opportunity to learn through play, offering a foundation upon which kids can build as they grow older and continue to enjoy playing with family or friends. 
When choosing the best board games for 4-year-olds (or younger), consider what basic skill will be taught – math/counting; language arts/vocabulary; geography; social studies; problem solving and more. Then find age appropriate educational games —whether found online or at specialty toy shops – that suit your needs. Most importantly have some fun!
Benefits of Playing Board Games with Your Kids
Playing board games with your children can be a wonderful learning experience for everyone, including yourself. Board gameplay provides many benefits that are unique to this fun and interactive activity. From developing memory skills and improving logical thinking, playing board games together is an excellent way to spend time as a family and build lasting memories! 
Board games are a wonderful way for kids to learn about colors, numbers, shapes, and sizes while also helping them develop important social skills like taking turns and sharing with others. While the benefits of board gameplay are many, there is one particular benefit that stands out above all else: building lasting memories! When you create an opportunity for quality time as a family by playing together using age-appropriate board games for your children, those moments will be ingrained in his or her memory forever. 
As they grow older, these fun experiences can provide comfort during periods of stress or sadness when something negative may have happened throughout the day at school or with friends. You are giving the gift of a happy and healthy childhood by playing board games together as a family!
There is no right or wrong way to play board games with your children, and the rules can be changed at any time so that everyone has fun while learning valuable skills along the way. At their core, all board games provide an opportunity for socialization through interactive gameplay among all participants involved. It will help build lasting memories when you play quality age-appropriate board games with your children today!
FAQ
What board games can a 4-year-old play?
Board games are made to be enjoyed by people of all ages. As a result, most four-year-olds can play many different types of board game without any problems as long as it is simple enough for them to understand and not too complicated with moving parts or numerous pieces that could cause harm if swallowed. The key is knowing your child's skill set and what he/she likes before purchasing anything – you want your preschooler to have fun while learning at the same time!
Some parents worry about their children developing "bad habits" such as cheating from playing memory card matching games; however, there is no need since this type of behavior will disappear once they are older and want to play more competitive games.
A 4-year-old can play many board games. One of the most popular types of board games for children ages 4+ is called "Memory" or simply, memory matching games. These may be marketed towards younger players (ages 3-6), but they do not have complicated rules or extra pieces; just cards with pictures on them which helps make it easier for young minds to grasp all while having fun at the same time! 
Another type of game suitable for preschoolers is checkerboards where kids can learn strategy skills as well as develop fine motor abilities by moving pieces around the map. Other popular games for preschoolers include Candyland, Chutes and Ladders, Connect Four or any other board game that is appropriate such as I Spy.
Are toddler board games good?
They are fantastic for developing your child's social skills, motor skills, and imagination. They also teach important lessons about sharing, taking turns, and being a good sport. 
Board games are a fun way for your child to play with others. It is one of the best activities that you can do together, and it will help develop his or her social skills too. Children learn how to take turns, share their toys and win or lose with grace! Board games also encourage creativity and imagination – they might become doctors saving lives, race car drivers going as fast as possible, or princesses living in castles. Your little one's mind will run wild playing board games.
The only downside about kids' board games is that most brands don't have many educational benefits – but the experts have reviewed some great ones above which engage children on an intellectual level while having lots of fun.
What activities are good for 4-year-olds?
Many activities can be great for 4-year-olds. One of the best ways to spend time with a child this age is to play games at home or outdoors. Board games, outdoor sports, and craft projects are engaging options for kids who may not yet have mastered reading skills. Children should also learn how to socialize in groups by joining friends in playtime or playing alongside parents as they cook meals.
4-year-olds are at the perfect age to start learning life skills, so it's a good idea for them to have access to toys that will help support those goals. The best board games for 4-year-olds encourage development in various ways, with activities like problem-solving and creative thinking becoming more common as children grow up. Board games also offer entertainment value by helping kids learn about social interactions and building friendships while they play together or against each other.
Parents and teachers can start to look for the best board games for four-year-olds by prioritizing educational and social goals in their research. Games that involve math, communication, reading or other life skills will likely be more beneficial in a child's development than ones with little benefit beyond entertainment. 
Some examples of great activities include:
Boggle

– this word game is simple but provides an opportunity for kids to practice spelling words while having fun at the same time. It also gives players many chances to work on vocabulary as well as sentence structure depending on how you play it;

Scrabble

– building your vocabulary has never been so much fun! Kids learn new words through playing this family favorite building blocks style game that makes learning a fun experience for kids and adults alike; 

Monopoly Junior

– a great game for teaching kids to count and sort money as well as investing and growing savings. This classic game is a fun way to encourage financial literacy in young children;
When should kids start board games?
Board games are part of a timeless tradition in America. According to a study by the Toy Industry Association, more than 80% of parents play board games with their children at least once per week, and nearly half say they played them as kids themselves. However, when is it appropriate for your child to start playing? And what kinds of board games should you teach him or her how to play? 
Most experts recommend starting around age 4 – just about when that birthday candle starts appearing on cakes! By this time, most have already started watching television and using smartphones/iPads (if not much earlier). Since these technologies tend to be passive experiences compared with ones like playing board games, it's a good time to introduce them as well.
Board games are great for developing not only motor skills, but also cognitive ones – including critical thinking and problem-solving abilities. In fact, research has shown that playing board games can improve these skills even more than video or computer games do! 
That said: like with all aspects of parenting, it's important to strike a balance between what the child is ready for and what parents feel comfortable allowing their kids to engage in (for example, you might want your toddler learning how exactly blueberries grow at an agricultural fair instead of watching TV). 
Board games can also be a great way for parents to engage with their kids. At this age, children are more open and eager to talk about the game they're playing – what's going on in it right now, why they got one card instead of another, etc. It gives you time to connect during an activity that your child is hopefully enjoying!
Why are board games good for preschoolers?
Board games are a great way to help preschoolers develop their social skills. It teaches them how to interact and play with others, which can be useful for when they start school.
Board games are good for preschoolers because they teach kids about taking turns, following directions and how to win or lose gracefully. 
Board games encourage creativity as well: when playing the game Monopoly Junior, each player has their own little house that they can decorate however they want! This teaches kids early on that it's okay to be creative and unique, which will benefit them later on in life if this trait is encouraged from an early age. 
These types of games also encourage critical thinking skills as your child tries to determine the best move or strategy that will come out on top. Additionally, board games often have educational components built-in helping teach reading, math concepts, colors, etc., all while playing a fun game!
What should a 4-year-old know educationally?
A child at the age of four should be able to recognize numbers up to 20, they can also count and compare objects. As well as developing their fine motor skills by coloring in pictures or completing puzzles. A 4-year-old should know the alphabet, basic arithmetic concepts, and be able to follow simple instructions. They may also learn about shapes in preschool or kindergarten, but these are usually done through hands-on activities rather than direct instruction.
A 4-year-old is learning through play and experience which makes them eager for new activities that stimulate their senses.
How do you keep your 4-year-old busy?
You can keep a few different ways your child is busy. You could use educational toys such as puzzles, flashcards that are also called ABC cards or alphabet games, and even coloring books with crayons for him to fill up the pages of pictures if she or he's not old enough yet to actually write letters on paper himself. 
Another way is by using an activity table that contains many items like shape sorters, bead mazes, and pegboards where there will be something new every day so they won't get bored soon. 
But lately, experts have seen more interest in board games because it keeps children entertained for several hours without having them sit down for a long period of time since this kind of activity gives their whole body exercise too instead of just focusing on their brains. Board games are also perfect for siblings who want to play together or for them to play with you as a family instead of just sitting in front of the TV watching cartoons all day long. 
Some board game examples would be Chutes and Ladders, Candy Land, Operation, Hungry Hippos (Hogwarts Battle), Monopoly Junior Disney Princess Edition, Battleship Star Wars edition, and many more! 
Does playing board games make you smarter?
The short answer is no. There has been a lot of research over the years that show-playing games doesn't make you any smarter, but it does help with problem-solving skills and critical thinking among young children. As adults, we play board games as much for entertainment as for education because they're fun to play! In addition, even if your child isn't learning anything new during game time, they are still developing important social skills like sharing, turn-taking, and empathy through their interactions with other players.
Do you have the difficulties with picking awesome board games that will be interesting for active 4-year-olds? Let me help. I consider myself almost an expert already. Because after a few months of tests and reviews, I've created the list of awesome board games you can buy for your little children.
Things to look for in the board games for 4-year-olds
Nowadays, board game developers design the kids aged from 2 years, as well as educational board games for children 3 years. They do not only allow you to have fun in your spare time but also contribute to the development of skills and knowledge. Many parents prefer buying board games and include little kids because such titles contribute to the development of:
fine motor skills;
coordination;
memory;
reaction and observation;
speech;
imagination;
logic;
spatial thinking;
mathematical skills, counting.
Tabletop games for children of 4 years old can satisfy even the most demanding young players. Such games can be played with friends or parents, which, among other things, allows them to spend quality time together.
The best board game for a 4-year-old kid is the one that does not have difficult rules and does not take longer than 15 per gaming session. Children of this age will need help from adults to master the gameplay. It is very important to explain the rules to your child to cause him or her a genuine interest in the board game.
The box with the game should indicate 4+. When choosing a board game for small children, pay attention to the quality of materials. The game should be made of dense and safe material, have a bright design and do not contain small details.
Parents are already thinking about preparing their 4-year-old kids for school time. An excellent option would be to choose a board game that introduces future students to reading, oral, counting and spelling skills.
Psychologists advise having at home several different board games to switch if a child gets bored of playing the same game over and over again.
4-year-olds will enjoy playing top 5 best board games:
Candy Land is a nice game for 2-4 players, with gaming sessions lasting no more than 15 minutes;
Zingo is great for playing during family nights, with 2-6 players involved;
The Ladybug is a cute tabletop game for little kids aged over 4 years old. It is good for 2 players and more;
Alphabet helps to learn ABC thanks to 26 matching pairs of letters. It is a great memory game;
Don't Break the Ice delivers great family fun for 2-4 players;
Also, do not skip the video tutorial with the rules for playing Candy Land. Such video tutorials can be quite helpful. Please, share your thoughts about my choice of board games for 4-year-old kids. Subscribe if you like my reviews and want to read new posts dedicated to board gaming titles!
Video Tutorial: Best How To Play Candyland Tutorial
Final thoughts 
There are many factors to consider when picking out your child's next favorite game, but this article will give you some insight into what makes a good educational toy and what features parents should look for in their purchase decision. Hopefully, this guide helps make your shopping process easier!
---