---
Junk Art is the second game from Pretzel Games. Pretzel Games is kind of a spinoff, like a sister company to Z-Man Games, and their games so far have been dexterity games. The idea of flicking discs and knocking cowboys over is fascinating.
You may also like:
Giant Jenga Game
Rhino Hero Super Battle
Jenga Giant JS7
How To Play Junk Art
15 different pieces come in four different colors so that you can see there's green, orange, gray, and blue, and the pieces are all different shapes. They look like things you get from a craft store, but you'll notice as time goes by how the different shapes work together, how different pieces tend to slide and fit together. A lot of thought was put into these pieces so that they can fit together. Each player's going to get a base, and for each part in the game, some cards match those pieces. You can see that this one here shows the blue flowerpot, the blue donut, the orange stick. There's a number on it that basically how difficult that piece is to put onto the base.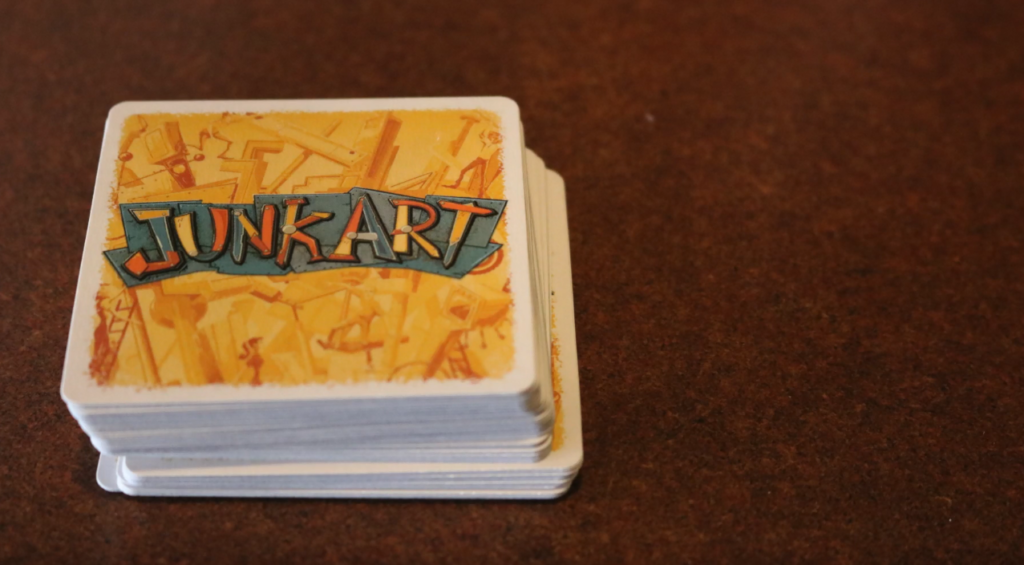 You're going to shuffle some cards for a world tour, and you're going to have three of these that you're going to go through, and each one is going to change the rules for the game. Players are trying to get fans, one and five fans. These are essential points. So the basic game, the one that you start by playing, is each player is going to have four cards, and on your turn you pick two cards, and you give them to the person on your left or right, you can switch the direction to play order goes in, and you'll draw the two pieces that match those two. For example, you have the green ball and the long gray stick. That person will pick one of those that they're going to use, and you get the leftover one.
When you do it, you're going to hold your base with one hand simply, or you don't have to. You can use this, and you can put this piece on your base, or on a piece that's on your base. When you're adding another piece to the base, you can put it on top. You can even move it. You can move pieces, but you don't ever want to knock them off. When pieces fall off, you're going to place them in front of you.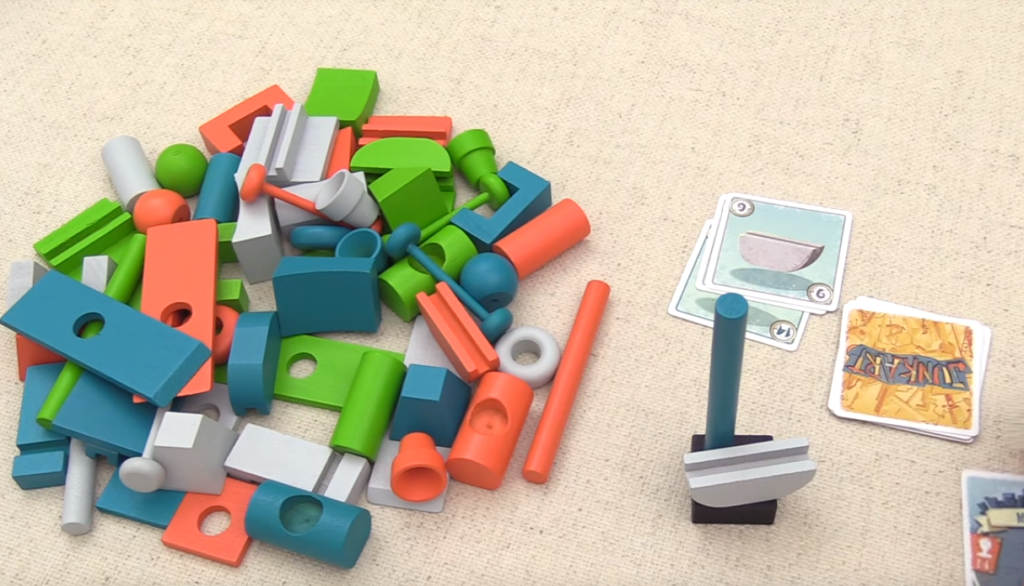 Now, in the basic game, every time you have a piece that's the same color touch another piece of that color, you get a fan. If you have a piece that's the same type touch another part of the same type, you get a fan also. So it's possible to get multiple fans, no fan here, but there's a fan. You're also trying to get the tallest tower, and in fact, the game comes with a little measuring piece that can help you figure out which tower is the tallest. Players are going to take turns putting these cards out, and once someone has knocked five pieces off, then you measure all the towers, and the tallest tower gets five fans, the second tallest gets three fans. Players also lose a point, a fan, for each piece they'd knocked off.
Junk Art Board Game Gameplay
Each other game can be completely different. In one game, each player gets all the pieces of color, and you flip a card over, and everyone has to find that piece and put it on their tower. In another game, players are all going to play a card from their hand, and whoever plays the highest number is going to take each card and give one card to themselves, the other cards to everybody else, and those are the pieces that you have to put on, and you're simply trying to get the highest one.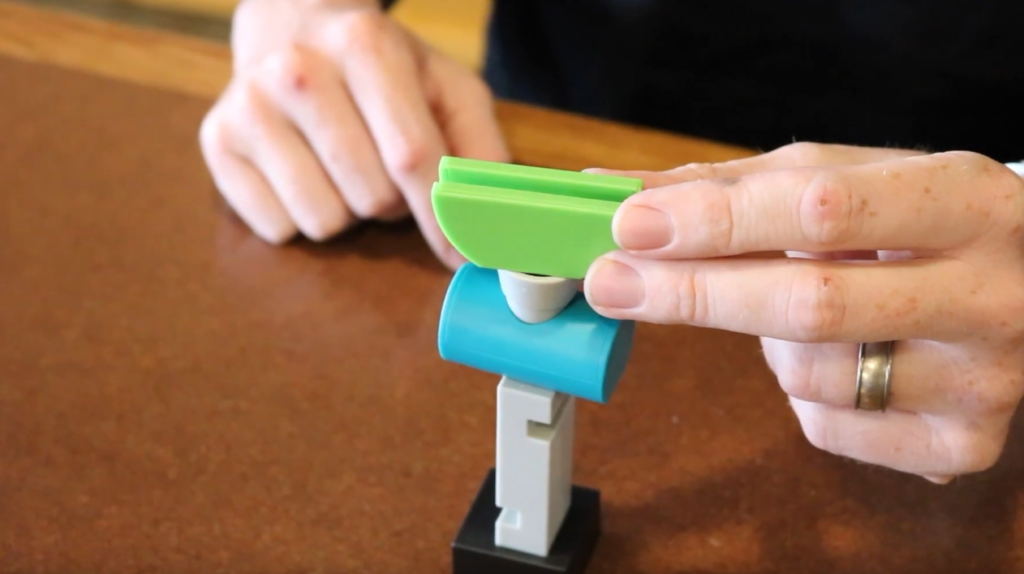 Sometimes, there's one where there are 10 cards in front of you, and you flip over the top card each time, and everyone's flipping over to the card at the same time, and you have to hurry and find that piece from the middle, and put it on your base and shout, "Done." The last person to shout, "Done," doesn't get it on. Then again, you're trying to get the highest one. Sometimes, you put two bases together, and everybody is going to be drawing cards from the pile one at a time and simply building one giant structure in the middle. There's a drafting game. There are many different games. It's kind of like a crossover game, where you'll be flicking and trying to destroy other people's towers. After you play through a certain number of cities, and you can add or subtract cities depending on how many people are playing, or how long you want the game to be, whoever has the most fans is the winner of the game.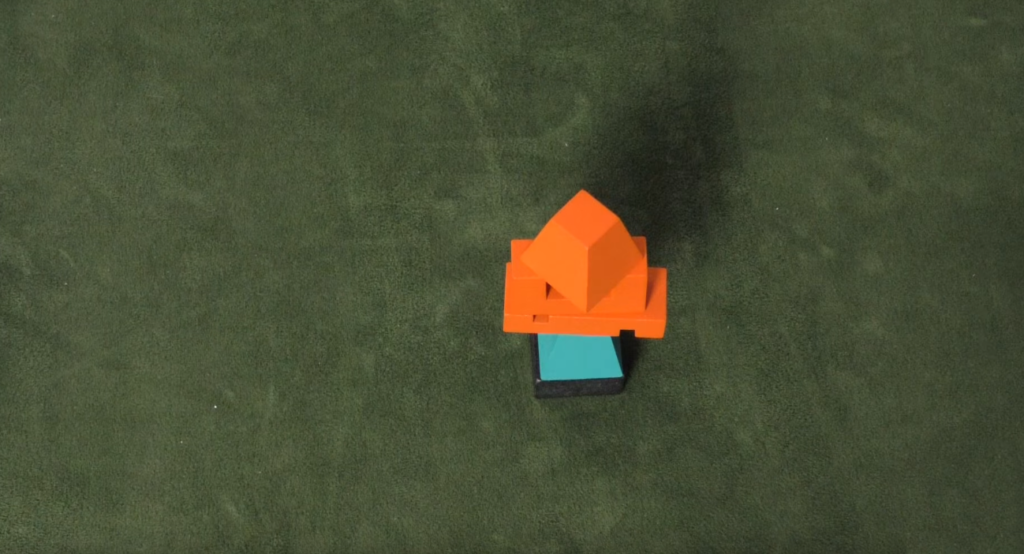 The pieces also look good. The four colors, the green, orange, blue, gray, they're a nice offshoot. It's not typical red, yellow, blue, green, but it looks good when you form the stuff. It looks like what is arguably works of art. The fact that every game has a different feel is really neat. Even the base game, which is essentially just taking two cards, you give it to the next person, they pick one and give it back, that works. But the speed one works, the one where you're all stacking on one. There's where you all play a card, almost like a trick-taking game, or when you're drafting.
Final Thoughts
Each game has a distinct, different feel. It keeps the game from getting boring, because you play the one round, and it's, "All right, let's move to the next round. Okay, in this round, we're all stacking on one tower, and this one, you have the cards. There are three cards on the table, and you take one of those cards and give it to that person, and that's the piece he has to add to the tower." That's just a neat concept. And again, there's obviously going to be skill differential in the game about stacking. If you're someone who has shaky hands and knocks things over, this game probably isn't for you. But, if you do like these kinds of dexterity games, this is honestly one of the best that come out in years.
---